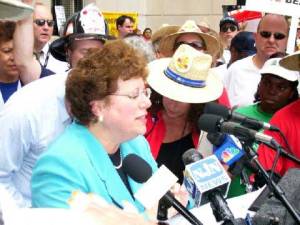 Aldous Huxley wrote a book called Point Counter Point, a title that could easily apply to the 14th District senate race, where Democrats want to win in part by starkly juxtaposting themselves to Gov. Chris Christie.
Running against state Sen. Tom Goodwin (R-Hamilton), Assemblywoman Linda Greenstein (D-Plainsboro) opposes the constitutional hard cap of 2.5% advanced by the governor and favored by her opponent.
"I think a hard cap does not provide the necessary flexibilty you can achieve with a statutory cap," argued Greenstein on the eve of the legislature's consideration of Christie's proposal alongside a statutory cap of 2.9% preferred by Democrats.
Rejecting on its face the notion that Christie has been a reformer to shame past Democrats, the assemblywoman said the state's existing property tax cap, which Gov. Jon Corzine reduced from 7 to 4%, has already brought the state average to 3.3%.
In their typically punch-counter punch pattern, Greenstein this week voted for the statutory cap, which Goodwin opposed. Then Goodwin voted for the governor's $29.4 billion budget, which Greenstein rejected.
Greenstein criticized Goodwin for his no vote on the 2.9% cap.
"This was the cap bill of the moment, and I think it was irresponsible of him to vote against it," she said. "He may have wanted something better, but if you really want property tax relief, you should support what's out there."