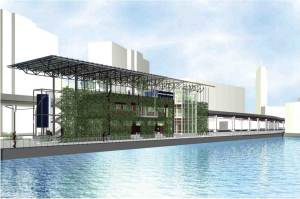 The day after President Obama made his first Oval Office speech-an attempt to harness the BP disaster to kick-start comprehensive energy reform-the lanky Lauren Remington Platt, 26-year-old great-great-great granddaughter of the founder of the Remington Arms Corporation, hobbled on rickety gold heels into an eco-friendly hut called Solar One in Stuyvesant Cove Park on the East River and 22nd Street, wearing an impossibly short, tight slitted dress-the kind that makes you avert your eyes for fear of seeing something you shouldn't. Ms. Platt, who'd just launched a start-up, lost an intern and gotten stuck in midtown traffic, was half an hour late.
"Would you like some water or something?" asked Chris Collins, the dapper executive director of Solar One.
Ms. Remington Platt said yes, thank you, and joined her sister, the 22-year-old Ashley Wilcox Platt, a brunette Nicky Hilton to Lauren's Paris, at a plastic folding table. The younger Platt, who recently received her bachelor's degree in sustainable development from Columbia, wore her hair pulled back and a loose-fitting navy blue dress. She spoke with shy articulation about box turtles, green roofs and growing up on the family farm in northern New Jersey.
"Once it became time for Lauren and I to get our drivers licenses, we'd already been on a tractor for like ten years," she said.
Together, these heiresses are the unlikely ambassadors for New York City's only stand-alone, solar-powered building: Solar One. The week before, they hosted "Revelry by the River," a gala for Solar 2, the $10 million carbon-neutral showcase for solar technology that will replace Solar One. Their aunt H. Harley du Pont chaired the event and presented her two nieces with the organization's Young Environmentalist Award. The dinner and junior committees read like a who's who of New York society: Cynthia and Dan Lufkin, of Donaldson, Lufkin & Jenrette; Anna Getty; Jamie Johnson; Senator John Kerry's daughter Alexandra; and the baroquely named Maximilian von Bismarck. Tickets ranged from a junior rate of $200 to $25,000 for a presenting sponsor.
That Solar One sprang up on the East River, at the site of an old concrete factory, is a testament to the NIMBYism of East Side residents-whose vociferous protests in the late '80s caused a proposed commercial and residential development called Riverwalk to wither on the vine; and to the ingenuity of a retired science teacher and Stuy Town resident named Joy Garland, who suggested an environmental learning center be built in its place.
Today, five years after its inception, Solar One hosts green-collar education programs, teaches sustainability to schoolchildren and runs an annual solar-powered arts festival.
"We have a lot of events throughout the summer, and they're all powered by the roof," said Mr. Collins, referring to the hut's comparatively modest photo array and hefty battery back-up. Mr. Collins, whose blue eyes, neatly trimmed white beard and professorial air evoke Richard Dreyfuss, sat back in his chair, with his knee propped on table, and expounded on Solar 2, which will rise where he was then sitting "as high as the F.D.R. Drive with a photovoltaic solar array that will float about 19 feet above the building."
"So when you're driving along the F.D.R. Drive, you're actually going to get to see through the roof," Mr. Collins said. "And it'll have a green screen wrapped around it, and it will be a net zero energy and net zero water [building]."
First, Mr. Collins has to finish fund-raising for the building. That's almost complete. Once construction begins-ideally next year-he will launch a capital campaign to harness private funds for the organization, a mission for which the Platt sisters should come in handy. Truth be told, so too should the disaster in the Gulf, as graphic evidence as any that our dependence on crude will have to come to an end.
"I think that this is such a wake-up call, and the way BP handled this was so poor, that I think it's really bringing a sense of unity among everybody, the environmentalists and even people who were perhaps on the fence before, because it think it's just such a gross example of what we're doing to our environment right now," said Lauren Remington Platt.
It's hard to disagree with Ms. Platt's sentiments, but living green isn't always easy, especially when it's so easy not to. Following the interview, the sisters Platt bid Mr. Collins adieu, tottered slowly west down 23rd Street and tried to hail a cab.