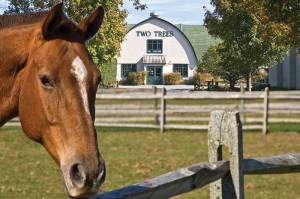 David Walentas is the developer responsible for chic-ifying Dumbo, the Brooklyn waterfront neighborhood between the Manhattan and Brooklyn bridges. He is perhaps less well known as the patron of polo in the Hamptons. The annual Mercedes-Benz Polo Challenge is held at Mr. Walentas' Two Trees Farm, a former dairy farm-turned-equestrian center in Bridgehampton that he and his wife of more than 30 years, Jane, put on the market 21 months ago for $95 million. That it has not yet found a buyer illustrates, perhaps, the tenuous status of the pastime.
Recently, the couple consented to give The Observer an exclusive peek at the 115-acre property. We started in a high-ceilinged summer room of his relatively small farmhouse, a great moose head staring down at us, a necklace of unlit Christmas lights roping its neck like flapper's pearls. Underneath, a gold name plate read "Moosilini."
"I'd like to say I hunted him in Alaska and slit his throat but we actually got him at an antique shop in Colorado," Mr. Walentas drawled. He was standing with his back to the wall of French doors leading to a brick-bordered lap pool. It wasn't always so nice, needless to say. When they bought it for $2 million from one Daniel Baldwin (no relation to the actor) in 1993 for $2 million, "this place was disgusting," Ms. Walentas said. "It was like a hired-hand's home."
"We bought it as a project," Mr. Walentas said.
"We like projects," his wife piped in cheerfully.
The couple had a fantasy about polo-the WASP sport that signals, at least in Ralph Lauren world, that one has arrived. "Polo's sort of a sexy thing," Mr. Walentas said. "I went to UVA and they had a polo program, so I saw it for the first time."
Did he play?
"No! I was a poor scholarship kid."
Mr. Baldwin, a potato farmer, had already started a small equestrian facility, but the Walentases turned it into a well-oiled machine operating year-round, with indoor riding rings, more than a dozen staffers and a profit of a few hundred thousand a year, which covered the upkeep of the farm. "We bring in truckloads of hay and wood shaving. It's a big operation," Mr. Walentas said. "We're actually low on hay right now."
Near the dressage ring, there is a large former silo. At the top, blue letters curl around the circumference reading "Happy St. David's Day, 8.7.08." (St. David's Day is Ms. Walentas's pet name for her husband's birthday.)
VIEW SLIDESHOW > A VIRTUAL TOUR OF DAVID WALENTA'S POLO HEAVEN
TWO YEARS AFTER the deed traded hands, the inaugural polo match was held at Two Trees Farm.
Jane brought out large photo albums. "Oh, look how young Michael looks," she said, flipping through thick, cream-colored pages. She paused on a photo of grooms at work. "This is just life at the farm." The top of the page read: "Build it and they will come; Bridgehampton Polo."
And build it they did: an arduous process of replenishing the topsoil and leveling the fields.
The Walentases had the help of two polo devotees, Interview magazine publisher and White Birch paper magnate Peter Brant and financier Neil Hirsch. "We leased them the fields, and they produced the high-goal polo, set up the teams, charged green fees and set up the publicity," Mr. Walentas said. "I'm just the landlord. … When the polo guys came out here, they always wanted everybody to play polo, and one guy gave me a horse and his boots, and I was gutsy. The first time I went out on the pony, I took a swing and fell off and the pony went right back to the barn."
"He used to fall off all the time," Ms. Walentas said, laughing sweetly.
"So then I got into it and played," Mr. Walentas said. "High-goal polo is a rich gringo sport that hires three Argentine pros to play with them. Two years ago, I said, 'Look, I'm getting old and I'm rich enough,' so I hired Adolfo Cambiaso, who is the best polo player in the world"
What about Nacho?
"Well, Nacho's the cutest, but he's not nearly as good. Nacho's the face of Ralph Lauren and a sweetheart of a guy, but on a scale of 1 to 10, Nacho's a 6 and Adolfo's a 10."
"And better-looking!" Ms. Walentas chimed in.
"And we won both tournaments and that was it. I said, 'I'm getting old, I'm turning 70, I can't play with 15 and 20-year-olds anymore, I'm going to stop while I'm ahead,' so now I play golf and tennis. So I'm not riding now, and we've been doing it for 17 years so we said, 'Let's sell the farm." We'll build a house on the ocean or something."
The question is, what will happen to the Mercedes-Benz Polo Challenge if Two Trees Farm is sold? Is this the end of polo as the Hamptons know it?
After a 10-year battle against Southampton Town, Mr. Walentas has finally succeeding in garnering a subdivision plan that would allow his rambling space to be divvied up into 19 additional 2-acre lots.
"You could still have the polo; we wanna keep the polo," Mr. Walentas said.
However, the Southampton Town Planning Board has said that if the subdivision is completed, the public polo matches will no longer be allowed. Mr. Walentas, who has the mongram " No Guts, No Glory" on the cuffs of his dress shirts, is not known for his compliance with the rules. Paul Brennan, Douglas Elliman's Hamptons honcho, once noted "David is someone who asks for forgiveness, rather than permission."
And Mr. Walentas is holding on to a dream that someone like himself will buy the land and love it as he did, not wanting to cut it into neat squares like a pan of brownies. "I'm a developer in the city," he said. "I'm not a developer out here."
Does he have any specific rich equestrians in mind?
"No, money changes hands. The rich polo players from a few years ago are either old or not rich anymore-too many wives and polo ponies. It comes and goes. Polo players are like babies. There's a new crop every year."
VIEW SIDEBAR > A HALF-DECADE OF HAMPTONS HORSE LORE