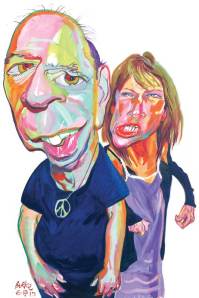 On a recent Thursday morning, Internal Revenue Service agents walked up to a shiny new building on East 74th Street. Bernie Madoff's younger son has a $4.4 million condo on the fifth floor, but they were looking for his neighbor. "Tell them I'm not here," the money manager Kenneth I. Starr said to the doorman from the $7.6 million apartment he bought a month and a half ago. "Only my wife is here."
An hour later, the agents were about to use a master key when Ms. Starr, a former erotic dancer, opened the door: "He's," she whispered, "upstairs." The 66-year-old financial adviser, whose clients have included Henry Kissinger, Caroline Kennedy, Bunny Mellon and Martin Scorsese, was found hiding in a closet, his shoes sticking out.
Eight days later, Carly Simon was lying in bed in Martha's Vineyard. Wearing a white nightgown, a kind of Victorian-style shift, she answered the phone. "I'm fine," she said. "I'm not fine, what am I saying?" For one thing, she's been ill: She thinks she was bitten by a tick when her horse was put down. For another, the singer says she has lost upward of $15 million to Mr. Starr, who is being held without bail on charges that he was running a Ponzi-like scheme.
'We've set it up,' said Ken Starr to me, 'so that you will not have to worry for the rest of your life.' — Carly Simon
In a complaint that accuses him of fraud and money laundering, prosecutors say Mr. Starr (no relation to the Clinton foe) bought his new apartment with $5.75 million taken from Ms. Mellon, a 99-year-old widow, and $1 million from Uma Thurman. He repaid the actress when she went up to his office to confront him two weeks later, using money taken from his client Jim Wiatt, the former William Morris chairman.
Ms. Simon, whose father co-founded Simon & Schuster, thinks her own money is gone because of Mr. Starr's negligence and fraud, which she wasn't sharp enough to catch in time. "You're talking to somebody I'd rather not be," she said. "I don't like to admit how little I knew about anything financial."
READ MORE FROM THE CARLY SIMON INTERVIEWS>
"She leaves it to people that she trusts," said her sister, Joanna, a Manhattan real estate broker, and the late Walter Cronkite's companion. "And it turns out a lot of those people were untrustworthy. She's a real artist, and she needs people to look after her." Cronkite, too, she said, was a client of Mr. Starr's, though he got out early.
If an enormous lesson of the financial crisis was that most of Manhattan was cheating, one moral to the story of the sprawling Madoff disaster and now the cinematic Starr charges is that most everybody is being cheated, even the artistes and statesmen and dazzlingly aristocratic widows.
IN THE MID-'90s, the singer and her ex-husband, James Taylor, happened to be using the same money manager. "I felt that I was second best, and I wasn't getting the kind of attention that a pasha like myself would want," she said. "James just always was much more of a worker bee than I, and therefore it reflected in the kind of attention from a business manager that one would expect."
She heard about Ken Starr from three different people at once. "All very successful and moneyed," she said. "They were all very importantly involved with the theater and television."
Still, when she went to meet the adviser, she brought along a friend, Dirk Ziff. Mr. Ziff, a billionaire, didn't raise any red flags, though nor did he want to use Mr. Starr himself. (As it happens, his brother Robert has been named as a client, although a spokesperson told The Observer that he denies knowing the adviser, let alone having invested with him.)