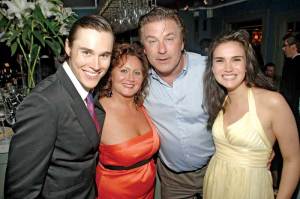 "Chicken nori cigarette?" offered a young blonde, holding a square silver cigarette box poised open on a small tray. Long slender chicken nori rolls artfully splayed out of the case.
Gimmicky hors d'oeuvres aside, the benefactors' dinner celebrating the premiere of Equus at East Hampton's Guild Hall was a grown-up affair held at Guild Hall trustee Mike Clifford's manicured home on Dunemere Lane.
The 1973 play, by Sir Peter Shaffer, follows a psychiatrist's investigation of a young man's savage act of blinding six horses with a hoof pick. It gained international attention when Daniel Radcliffe, starring as the young boy in the Broadway and London productions, appeared in the nude.
Alec Baldwin, who plays the tormented psychiatrist, arrived seemingly untormented to the pre-show event. A rippling of shushs and whispers followed him through the foyer and living room as he told his handler happily, "I want to get a look at this yard!"
Mr. Baldwin's wet hair was wilting like steamed string beans, as he held court poolside at the glass-top dining table on the porch. Former Ralph Lauren model Jane Gill sat next to Mr. Baldwin, who is an Amagansett homeowner and Guild Hall benefactor himself. "Alec," she asked him, "do you want me to get you a plate of food?"
"No, no thank you," he demurred. "I never eat before a show."
Ms. Gill, who later in the evening told another guest, "I like to have some truffles by my bed, or some really good chocolate to eat before bed," continued eating her own plate of salad and cod. The model-turned-real estate broker's toenails were painted a teal color that uncannily matched her strappy snakeskin sandals.
Co-star Sam Underwood, the young British actor playing the horse-obsessed teen, also chose to abstain from the heaping-but-healthy buffet. "No, I'm not going to eat now," he said. "I get to pig out after this. I like food in general. I'm a big fan of eating."
Mr. Baldwin and Mr. Underwood left the party together, walking the short stretch to the theater side by side. A French businessman in aubergine slacks and matching eggplant-colored socks lunged after the 30 Rock star, "Oh, maestro! Please!"
Mr. Baldwin turned around, polite but hesitant: It was already 7:15; curtain was due up at 8 p.m.
"Maestro, my daughter, she is so shy, but she loves you so much, please,"
The teenage girl sheepishly shook the bearish actor's hand before skittering back to the other side of the room. Mr. Baldwin, courteous as ever, shook the father's hand as well before briskly seizing his chance to exit.
Kevin Brown, who plays Dot Com on 30 Rock, was standing outside the historic theater in brown pants and a matching oversize java-colored jacket. The former stand-up comic recited the history of his TV character: "At first they just wanted a big guy to be part of Tracy [Morgan]'s entourage, but then they started to like the way I interacted with Tracy, so they started writing in some lines for me in almost every show."
After the show he told the Transom, "Watching Alec do anything is a great lesson."
Local literati waited eagerly at the door hoping to spot some of the notables that invade their East End towns during the summer months. One older woman said, "People don't know who anyone is anymore. Alan Alda was in line in front of me at King Kullen today, and the cashier was so young she didn't even recognize him!"
Tony Walton, the legendary British stage designer and director of the new production, watched the play from the audience with Gen LeRoy Walton, his wife. She is the ex-wife of New York restaurateur Warner LeRoy, whose granddaughter, Georgia Warner, is the female lead in the play.
After the performance, director Sidney Lumet, in an unseasonable Christmas-red cable knit cashmere sweater, labored gracefully across the theater to reach Mr. Schaffer, whom he heartily congratulated with a pat on the back.
The cast trickled into the after-party at c/o The Maidstone hotel across the street. They accepted flutes of Champagne and Scandinavian-fusion hors d'oeuvres. They planned to celebrate but in moderation. There were two more shows the next day.