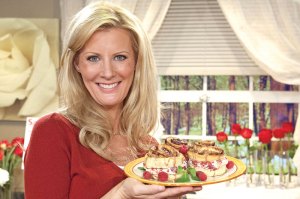 Last Thursday in Madison Square Park, during an afternoon hot enough to spoil mayonnaise in minutes, the Starkist tuna company launched its Have You Been Starkist? Health & Happiness Tour. Activities included a Wii fitness console, a photo opportunity and the possibility of interacting with Sandra Lee, the Food Network personality, best-selling author and girlfriend, since 2006, of Attorney General Andrew Cuomo. At 1 p.m., Ms. Lee was on the scene but hiding out inside a torpedo-shaped trailer that reflected sunlight painfully into the eyes of passersby. Tinted windows obscured the guest of honor, offering only a glimpse of white dahlias pressed against the glass.
Ms. Lee, a registered Democrat, grew up in a troubled home, caring for an unstable mother and stretching the family's food stamps to feed her younger siblings. Her show, Semi-Homemade Cooking with Sandra Lee, proposes a 70-30 formula for home cooks: by using 70 percent ready-made ingredients and 30 percent fresh ingredients, cooks can take "100 percent of the credit for something that looks, feels and tastes as if it were made from scratch." Ms. Lee's official biography identifies her as "the foremost advocate to over-extended people," and her duties as Starkist spokesperson have so far included Thursday's appearance and the donation of two exclusive recipes, a penne niçoise and a lemon pepper tuna and bean salad.
In a recent Daily News interview, Ms. Lee spoke about Mr. Cuomo, relating that the Democratic candidate for governor is good at washing dishes and preparing pork chops and that in his spare time he enjoys organizing the garage and writing in his journal. Ms. Lee was formerly married to Bruce Karatz, the erstwhile CEO of KB Home. The marriage dissolved in 2005, with Ms. Lee scoring a divorce settlement rumored to be in the mid-eight figures. (Mr. Karatz was convicted this year of mail fraud and making false statements.)
While pedestrians speculated on Ms. Lee's activities in the trailer, John Starks, a former shooting guard for the Knicks, posed for photos in a polo shirt adorned with the Starkist logo. "I grew up mixing tuna with mustard and tapping a little sugar into it," he told the Transom. "I always had a sweet tooth. I like tuna melts, too. It helps with the brain and the eyes."
A few feet away, Starkist employees inveigled pedestrians into the Wii booth. A man in a Coors Light cap was first at bat. He was quickly determined "unbalanced" by the Wii sensors and rewarded with a sticker. Another man scanned his tuna package and pointed out that the item didn't expire until Feb. 26, 2013. "I wouldn't wait until February 25 to eat it," he confided to the Transom.
Behind the Wii booth, a man in a blue velour tuna suit relaxed beneath a shaded table. A Starkist representative caught this reporter eyeing him and asked whether we might like an interview. "He's not a talking member, though," she added enigmatically. The company's mascot since 1961, Charlie is a status-obsessed fish who wears Henry Kissinger-style eyeglasses and a red hat. In early commercials, Charlie demonstrates his enthusiasms for Shakespeare and tennis only to be interrupted by a proletarian-type fish, who reminds him that "Starkist wants tuna that tastes good, not tuna with good taste." The mascot's appearance has not changed over the years, and Ms. Lee's involvement with Starkist suggests that the company's ethos remains populist in tone.
Though she did not emerge from the trailer Thursday, Ms. Lee later answered a few of the Transom's tuna-focused questions over email. Did Ms. Lee enjoy eating tuna as a youngster? "Yes, tuna sandwiches were my favorite as a child." And now? "Tuna is my preferred lunch or light dinner on Saturdays or Sundays-I like them with mayo on Health Nut bread!" When asked about a tuna-cocktail pairing, Lee responded with candor: "There isn't a cocktail that would be a good pairing, but a glass of French rosé with tuna salad or a tuna sandwich is lovely on a late summer afternoon in your garden at home." For the record, Ms. Lee's favorite Starkist Tuna Creations flavor is the hickory-smoked variety. It can be enjoyed on crackers or right out of the pouch.