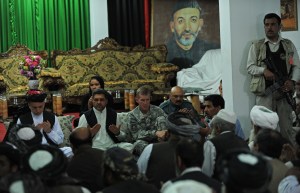 General Stanley McChrystal either submitted or offered his resignation, after a day of reporting and shock around his profile in Rolling Stone, "The Runaway General." Who knows! And maybe, while we're at it, Joe Klein can tell us the difference between those two things.
In any event: How did we get here? Or, rather, how did Michael Hastings get here? Here is a recap from the ten stories today that discussed how this story came together.
Rolling Stone editors assigned the story to freelancer Michael Hastings before they even knew for sure they would have access to Mr. McChrystal.
After that, Mr. Hastings got incredibly lucky. He met Mr. McChrystal in Paris just as the ash from the Eyjafjallajokull volcano was putting a stop to all air travel in Europe. On the phone from Kandahar today, Michael Hastings said that he did the bulk of his reporting for the piece between April 15 and May 15, including one week at the Ritz-Carlton in Berlin. During this time, little of what Mr. McChrystal said was off the record.
For the last month, the story has been with editors at the Rolling Stone. But somehow, the magazine missed the chance to break the story this morning, after Politico and other sites posted pdfs of the piece that were circulated to reporters and bloggers by the magazine's publicity department.
Rolling Stone executive editor Eric Bates appeared on Morning Joe to discuss the piece today. Politico heard Mr. Bates say that Mr. McChrystal had been read the entire story before it went to press and approved of all of his quotations.
The magazine's managing editor Will Dana cleared up Mr. Bates' remarkes on television, insisting that the piece had been thoroughly fact-checked. Mr. McChrystal was never allowed to retract quotes or even hear them verbatim before the piece was published.
Mr. McChrystal's PR man Duncan Boothby resigned or, rather, he was asked to resign. This was inevitable.
And Mr. McChrystal is heading to Washington tomorrow morning to meet with Mr. Obama and Vice President Joseph Biden Jr. to explain himself or at least apologize again. Will he bring his custom four-star nunchucks?