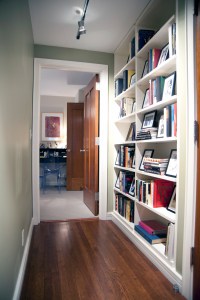 If Roxanne Donovan is like a younger, sexier Howard Rubenstein, her apartment is like a younger, sexier Fifth Avenue penthouse. The public relations expert and president of Great Ink lives with her husband and two sons in a luscious, high-altitude condo on the east side of Union Square, which she's occupied since 1999. I took the ride up two (!) elevators to get the low-down on this high-rise.
How did you find the place?
My husband has great real estate luck. He found it. My office had already been across the park, so I said 'great.' The condo is actually three apartments. When we bought it, it was two apartments combined, and four years ago we bought the studio next-door to expand, and did everything over.
This building has so many things that are good for my family. It has terrific doormen, it has a playroom, it has a full gym, it has a swimming pool. I feel very safe here and I love the location. Though my husband found the first apartments, I found the studio apartment and worked on that. I was involved in that real estate deal.
What are the top five things in your apartment you couldn't live without?
I couldn't live without some of my old family photographs. After that, don't make me choose between my handbags—I just can't do it
Which thing in your apartment has the best back story?
This diner booth has the best back story. Before we renovated the apartment, our old apartment didn't work. Even though my kids were a lot younger then, we never ate together as a family. So when we decided that we were going to overhaul the place, we really wanted a place where we could eat as a family. And we had gotten used to eating at the Sunflower Diner on Third Avenue and 26th Street. We ate there all the time when we would take the kids to school, so we measured the dimensions of our favorite booth there and we built it here.
SLIDESHOW> SOME OF ROXANNE DONOVAN'S FAVORITE THINGS
Which room do you spend the most time in and why?
I spend the most time in my bedroom and my closet. I sleep there and I do a lot of work at my writing desk. And I love my closet. I love it. It's very small and it has very low ceilings, but it does have a chandelier—I had a chandelier in my closet before J.Lo had one in hers.
Your neighbors—do you keep them close or at arms length?
I keep them close. My next-door neighbor, Garry Merzlyak, he's the best salesman there is. He's my stylist at Jeffrey. My husband wishes I'd keep him a little bit further away.
PREVIOUSLY > NY 1 ANCHOR PAT KIERNAN