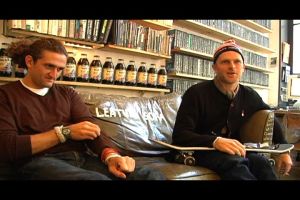 Have you ever watched a movie and thought, "Hey, I can do that!" If so, you most certainly will enjoy The Neistat Brothers. HBO's new Friday late night series is a testament to the "anyone can play guitar" theme of the 21st Century — a television show literally constructed with duct tape, iMovie and a host of trips to the dollar store, by two ostensible novices.
As the story goes, Casey and Van Neistat used their tax return money in the spring of 1999 to buy an iMac and DV camera. And 200-plus short films later — perhaps you've stumbled on their pre-YouTube viral hit, "iPod's Dirty Secret," which now plays like a nostalgia piece — they have an HBO series. Of course it wasn't that simple, but the way The Neistat Brothers presents things, everything is that simple. From expanding their studio space to smuggling maple syrup into Amsterdam to Van meeting his biological father, every issue is portrayed with the same shrugged attitude. And considering Entourage has used a similar tactic for nearly a decade, who's to say it won't work in the long term?
Still, the mileage you get out of The Neistat Brothers depends largely on your tolerance for the brothers themselves. They are bundles of boundless energy and — as a result — occasionally overbearing. That said, they clearly have a vision. During a Q&A following the screening of the first two episodes on Thursday night, younger Casey revealed that an upcoming episode would show him dumping a girlfriend. That he wasn't sure if it happened because he wanted to dump her or because it would make for good television shows the type of commitment the Neistat Brothers have to their work. They are filmmakers in the truest sense of the word because their entire life is a film that must be cut down into digestible shorts. Welcome to the American Dream in five-minute bursts.