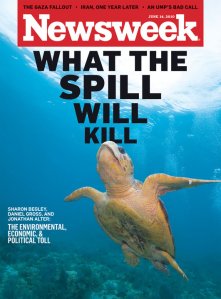 Bob Guccione Jr. is not interested in buying Newsweek, but he does have some advice for the magazine.
Mr. Guccione told Jeff Bercovici that if he were to take over the magazine he would abandon the magazine and published exclusively on the iPad.
"It has to be something that drastic and that much of a departure from their history," he said.
There is only so much that editors can do to save a magazine, he suggested.
"It's in the late autumn of its life cycle. As much as I have infinite confidence in my abilities to make something interesting, I don't think I could have turned that great ship around because I don't think it's solely a matter of making it interesting. I think the field itself is fading into the sunset."
Mr. Guccione Jr., the founder of Spin magazine, said in the spring that he had previously attempted to buy Fortune from Time Inc. He's now at work on two web properites about travel and wine.