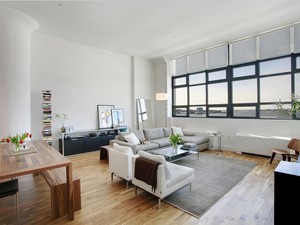 A sign near the entrance of a $1.075 million three-bedroom apartment on 96 Schermerhorn Street politely asks visitors to remove their shoes.
"Eighty percent of contaminants come into the apartment on your shoes from the street," broker Cara Sadownick said on Sunday, in stocking feet.
The apartment, like many others in Brooklyn Heights, has been designed to accommodate the young and germ-vulnerable. A plastic toy slide rests near the home office. Cribs stand in two bedrooms. A $500 water filter clings to the tap. A high-chair sits at the head of the table.
Brooklyn Heights residents push strollers the way Williamsburg youth wield cigarettes. A baby is a necessary accessory. Not everyone of breeding age who lives in, or aspires to, the Heights has kids. But chances are they're planning on it. Broker Kevin J. Carberry described the couples who had come to see his $999,999 two-bedroom at 199 State Street as parents in various stages of development: "Some with kids, some expecting, some hoping."
In a $925,000 "kind of two-bedroom" (one-bedroom with a large den) at 199 State, a sign tacked to the inside of the door reads, in a child's handwriting, "I love you, Daddy." The owner, who wasn't using a broker, said he and his wife were leaving Brooklyn Heights for Long Island to be closer to family. They have two daughters, and a third child is on the way.
Upstairs, in a $915,000 two-bedroom adorned with framed pictures of a smiling couple and their baby, broker Martha Ellman described the playroom on the ground floor of the building.
"You can have a birthday party in there or a play date," she said. "Or a business meeting."
Or perhaps both at the same time. Brooklyn Heights, after all, is for parents with means. Outside a $899,000 three-bedroom at 305 Hicks Street, Gabrielle Birkner, a journalist, compared the neighborhood to Manhattan's Upper West Side, where she lives. Her husband, film editor Jeremy Siefer, who accompanied her on their open house tour, used to live in Red Hook, Brooklyn. Ms. Birkner, 31, who said she and her husband want kids "at some point," described Brooklyn Heights as "a nice ideological midpoint" between the two neighborhoods.
"Well, it's closer to the Upper West Side," Mr. Siefer, 37, said.
As they talked, a man walked by, leading a young girl on a bicycle with training wheels. The girl veered, slowly and not dangerously, into a fence.
"Watch out, idiots!" the man shouted. "There's a kid here!"
BROOKLYN HEIGHTS IS TRYING, at least, to be the Upper West Side of Brooklyn. It has all of the Manhattan neighborhood's upscale domesticity, infused with a Brooklyn edge. Parents here are affluent, and militant about their children.
In a $1.265 million two-bedroom at 360 Furman Street (or One Brooklyn Bridge Park), John Mackey, 36, and his wife laughed in awe at the view of the East River and Manhattan. The building, a new development whose sales started in 2007, faces a series of piers, the future site of Brooklyn Bridge Park, which will include a dog run, soccer fields and playgrounds.
Mr. Mackey and his wife, who wouldn't give her name, are moving back to New York City after "two long years in Texas." They used to live, incidentally, on the Upper West Side. Brooklyn Heights is the first area where they've looked, and they expect it will be the last.
"When you live in the Upper West Side, it's like, 'Why would we go to Brooklyn?'" Mr. Mackey said. "But when you come here…" He trailed off: his point was self-evident.
His wife added that Brooklyn Heights shares a vibe with the Upper West Side. "It has that same kind of leafy street feel," she said.
But if One Brooklyn Bridge Park is trying to style its location as a Central Park West of Brooklyn, it has one major aesthetic problem: the Brooklyn-Queens Expressway. A highway overpass looms above the building's front door.
"Some of these new buildings are a hop, skip and a jump from the exit ramp," financial analyst Matt Simon, 30, said. He and his wife looked at an $849,000 two-bedroom at 76 Remsen Street, which was built in 1923.
No matter the building, it's not cheap to live in the Heights. Down the lane from a $1.245 million townhouse at 12 Warren Place (where on an upstairs dresser lay, appropriately, a copy of Miranda July's book of stories No One Belongs Here More Than You), Ethan and Aley Kent, 34 and 33, respectively, took their baby out for a walk. They both work for non-profit companies, and they're renting on Warren Place, a verdant pedestrian walkway lined with 19th-century townhouses.
"I don't think we could afford to live in this neighborhood if we weren't renting from family," Ms. Kent said. "Which is annoying."
Ms. Birkner, the journalist who now lives on the Upper West Side, agreed. "It seems to be a place where you can get a little more for your money," she said. "But emphasis on 'a little.' It's not much cheaper."
On Willow Street, three young boys tended a lemonade stand, while their mothers appeared to be chatting nearby. One boy overturned a yellow plastic cup, and a five-dollar bill fell to the ground. Another boy played with a toy helicopter.
At Ted & Honey café, on Clinton Street, a sign at the counter reads, "Ted & Honey café is now offering our very own, homemade organic baby food." The sentence ends with a small smiley face, as if to indicate how a baby should react to the announcement.