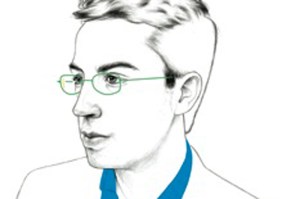 Holy web extras!
The New Yorker rolls out its Summer Fiction Issue today, four days after the Times announced which young authors made the magazine's 20 Under 40 list. Among the offerings are short Q&As with all the authors accompanied by little caricatures of them– a bunch of them, it turns out, are always questioning whether writing fiction is really what they want to be doing– and a podcast interview with fiction editor Deborah Treisman and her deputy Cressida Leyshon about the making of the list (more on that here). At 3:30 EST there's going to be a live chat with Ms. Treisman, who also wrote an intro essay about the list where she states unequivocally that two of the 20 who made it on wouldn't have if this was a year ago, because Dave Eggers and Colson Whitehead would have been eligible.
Three of the eight stories published in the fiction issue are currently available online: Rivka Galchen's, Salvatore Scibona's, and Gary Shteyngart's. Who will win on the most read list!?
Also, what do people think of the illustrations? Kinda lifeless, right? But also oddly realistic? Did Bern-based illustrator Grafilu really have to be so mean about Shteyngart's hair?