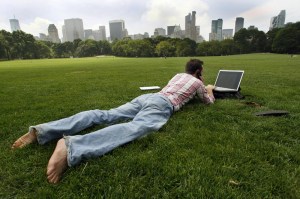 If you're anything like us, Sheep Meadow dining brings to mind Triscuits and questionable street produce dipped into sun-baked tubs of Alouette or browning containers of guac'.
No more.
From July 10 through Labor Day weekend, CityMint, a new iPhone app, will deliver orders from participating local restaurants (including Big Nick's, China Fun, and Pita Grill) directly to the Meadow on Saturdays and Sundays from noon to 7pm.
The service is free, but good luck playing Where's Waldo with the poor deliveryman tasked with wading through the weekend crowds.
What do you think – stroke of genius or farce in the making?