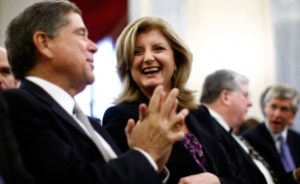 Yahoo CEO Carol Bartz has a list of web properties that she would like to buy, according to the Post's anonymous sources. At the top of her list is The Huffington Post, "the biggest blog on the Internet."
The two companies are already in talks to share content, but Tech Crunch (whose founder Ms. Bartz told to "fuck off" just two weeks ago) reported that it would be too expensive for her. It would also be a strange time for Huffington Post to sell given that it has just turned its focus to making profit.
Who knows how much the Internet's first newspaper might be worth!
After her first year and a half as CEO, Ms. Bartz is looking to increase the amount of time people spend on her company's web pages. That number is down 25% since she took over as CEO a year and a half ago, according to the Post, although traffic seems to be quite good.
The other properties that appeared on Ms. Bartz wishlist were Foursquare, Twitter, Demand Media and Associated Content, which Yahoo purchased in May for just over $100 million.