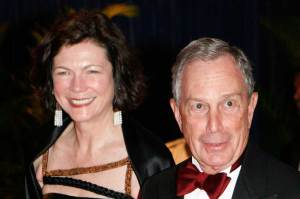 At The New York Times, politicians tend to have "companions."
Today, the Times analyzed the political ambitions of Diana Taylor, Mayor Bloomberg's "companion*." This is the standard epithet the Gray Lady has given Taylor, consistent with The New York Times Manual of Style and Usage, which says that companion "is a suitable term for an unmarried partner."
"Girlfriend," the guide warns, is "informal," and "best reserved for teenagers."
Bloomberg thinks it's an acceptable title, though. He said this week, in reference to park safety, "My girlfriend goes and walks the dogs at 1 in the morning." But when the Times was forced to label her in that same article, they went back to the standard branding: "companion*."
She's not the only political gal pal forced to fill that role on the Times' pages. Sandra Lee is the "companion" of Andrew Cuomo and Hiram Monserrate assaulted his "companion" Karla Giraldo. "Companion" is even a category on on Bloomberg's Times Topic page.
But it's not like the Times never uses the "informal" alternative. In a recent article about singer and songwriter Kenny White, the Times mentions White's "girlfriend," musician Angela Reed lives miles away in Seattle.
So are politicians too fancy to have girlfriends? Are musicians too down-to-earth to have companions? It seems the Times may not be drawing a clear line. Hockey player Alexi Yashin has a supermodel "companion" Carol Alt, but Errol Spence, a barber shot in Jamaica, was mourned by his "girlfriend." And the Times reported in 2009 that Sen. Max Baucus had recommended the Obama administration appoint his "girlfriend" to serve as a federal prosecutor.
Doing a quick search of the word "companion" in the Times, it seems it's applicable to more than just political relationships. A recent City Room post lamented the loss of Ruger, a guide dog and "beloved companion" to a human friend.
Let's just hope that relationship stayed professional.
*Correction: In an earlier version of this post we incorrectly quoted the Times as describing Ms. Taylor as a "longtime companion." The word "longtime" never appears in the Times piece. We regret the error.