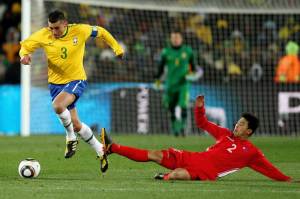 Caught the fever yet? Here's our rundown of the matches to watch, and where to watch them.
Honduras vs. Chile
7:30 a.m.
6-16-2010
ESPN, ESPN3.com, MobileTV
The rivalry: The underdog Honduran team is only competing in its second-ever World Cup, but Chile's coach, Marcelo Bielsa, said he doesn't want his team to downplay the threat of the Honduran team, who will face the challenging Spanish team later on.
Where Chile fans should watch: Pomaire at 371 West 46th Street. The Chilean eatery will serve a $20 buffet featuring traditional Chilean eats during the Chilean matches, perfect for munching on while taking in a match.
Where Honduras fans should watch: Nevada Smiths at 74 Third Avenue between 11th and 12th streets. While this isn't a Honduran home base, the bar is known for their around-the-clock soccer coverage and obscene amount of TVs.
Spain vs. Switzerland
10 a.m.
6-16-2010
ESPN, ESPN3,com, MobileTV
The rivalry: Cup favorite Spain has midfielder Xavi, who single-handedly made his team into a worldwide contender, but Switzerland is ready to avenge their 2006 World Cup elimination.
Where Spain fans should watch: Boqueria at 53 West 19th Street or 171 Spring Street. The Spanish eateries will be showing every game, and from 9:30 a.m. to noon, they will serve a special "World Cup 2010 Menu" featuring churros con chocolate.
Where Switzerland fans should watch: Café Select at 212 Lafayette Street. Have the schnitzel or bratwurst with a World Cup-themed cocktail.
South Africa vs. Uruguay
2:30 p.m.
6-16-2010
ESPN, ESPN3.com, MobileTV
The rivalry: Uruguay was the last of the teams to qualify, and they are going up against the South African team with home-field advantage. But they have not been devoid of World Cup glory, winning the title in 1930.
Where Uruguay fans should watch: El Chivito D'Oro III at 84-02 37th Avenue in Queens. Catch a match among photographs of Uruguayan street scenes while munching on meats galore from their paradilla dish.
Where South Africa fans should watch: Braai South African Restaurant at 329 West 51st Street. The self-proclaimed "official host to World Cup soccer," the place is sure to be overflowing with South African team spirit.
Argentina vs. South Korea
7:30 a.m.
6-17-2010
ESPN, ESPN3.com, MobileTV
The rivalry: The Argentine team has star striker Lionel Messi in its arsenal, but South Korea has strong leadership on the field from veterans Lee Young-Pyo and Lee Won-Jae.
Where Argentina fans should watch: Novecento 900 at 343 West Broadway. Novecento has locations worldwide, including Buenos Aires. The restaurant will have a $20 breakfast menu, perfect for morning games.
South Korea: Song 7.2 at 117 Second Avenue will air all cup games. Munch on traditional Korean fare while watching the South Korean team dominate.
Greece vs. Nigeria
10 a.m.
6-17-2010
ESPN, ESPN3.com, MobileTV
The rivalry: Greece comes to the tournament with poor performances in past World Cups, but it's known for its strong defense. They face a Nigerian team that has struggled in recent years with a weak defense.
Where Nigeria fans should watch: Mirage African Restaurant at 2143 Cortelyou Road in Flatbush. Sample African breakfast foods like moin-moin.
Where Greece fans should watch: Omonia, at 32-20 Broadway in Bayridge, Brooklyn, or 7612 Third Avenue in Astoria, Queens, will air all the Greek matches. At the Astoria location, buy three drinks and get one free during Cup games.
France vs. Mexico
2:30 p.m.
6-17-2010
ESPN, ESPN3.com, MobileTV
The rivalry: France, last World Cup's runner-ups-and the team of the infamous head butt-faces a Mexican team with a young roster and high expectations.
Where France fans should watch: Felix Restaurant and Bar at 340 West Broadway is perfect for classic French fare, spirits and soccer.
Where Mexico fans should watch: Hecho en Dumbo at 354 Bowery. Declare Mexico or any other squad as your team, and get a free tequila shot when your team scores.
Germany vs. Serbia
7:30 a.m.
6-18-2010
ESPN, ESPN3.com, MobileTV
The rivalry: While Germany always has a strong showing, a string of injuries may be costly; Serbia is known for its strong defense and midfield.
Where Germany fans should watch: Loreley Restaurant and Biergarten, at 7 Rivington Street. Perfect for dining on bratwurst, pork schnitzel and authentic German beers while catching a match.
Where Serbia fans should watch: Kafana at 116 Avenue C, an East Village Serbian restaurant, will be cheering on the Serbs as they face the Germans.
Slovenia vs. United States
10 a.m.
6-18-2010
Channels: ESPN, ESPN3.com, MobileTV
The rivalry: Although the Americans face England first, they will have to up the ante against the Slovenian team, which won the European playoffs.
Where Slovenia fans should watch: Manny's on Second, at 1770 Second Avenue, is where the Slovenian Women's Union of America is viewing the team's first match on June 13, and the restaurant will open for other Slovenian matches.
Where United States fans should watch: Standings at 47 East Seventh Street, between Second Avenue and Taras Shevchenko Place. Catch the action on one of their eight plasmas. Open for all World Cup games except the 7:30 a.m. matches.