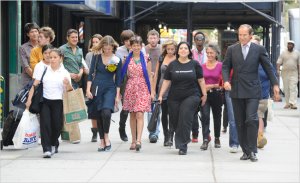 Reviews are in for Work of Art: The Search for the Next Great Artist, Bravo's attempt at an art-world Project Runway. Sarah Jessica Parker produced the show, which offers the winner a $100,000 and a solo show at the Brooklyn Museum.
The Times approves, sort of:
Without even trying, "Work of Art" resurrects academic debates of the 1980s and '90s as it implicitly asks us to determine what kind of art has more value. The series is a free-for-all (a good thing), pitting representational artists against conceptual ones and so on. Here is an invitation to let the screaming about Derrida begin.
If we have one gripe with most entertainment, it's the lack of screaming about Derrida.
Although the show may sound "vaguely tedious," Ginia Bellante assures us that "it is decidedly not."
The LA Times is less generous. The show's high(ish)-brow aspirations might make it a more unusual mess than the typical reality TV trainwreck, writes Christopher Knight, but not necessarily a more entertaining one. The series' first challenge:
"A successful portrait," [Host China] Chow proclaims, "is one that shows a viewer the inner essence of your subject, and not just their likeness." The artists collectively gulp.

I did too. Fifty years of marvelous, disruptive paintings and photographs by Alex Katz, Chuck Close, Dan McCleary, Gerhard Richter, Cindy Sherman, John Sonsini, Rineke Dijkstra and countless other first-rate artists, internationally known and not, and we're still trotting out the wheezing cliche about portraiture's required significance being bound up with the revelation of the sitter's inner essence?

Really? The 17th century lives on.
Work of Art is not so "much bad as merely dull," he concludes.
Regardless, everyone likes New York critic/judge (and Nina Garcia substitute) Jerry Saltz–but we already knew that.