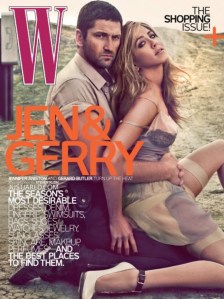 Attention editors: Book Jen and Gerard if you want to sell a magazine.
Covers featuring Jennifer Aniston have been the top sellers in 2010 for both Architectural Digest and W, according to the Audit Bureau of Circulations Rapid Report.
The Architectural Digest cover featured Ms. Aniston draped over a piece of furniture with the tagline "Jennifer Aniston In Her New Home." According to an AD press release the issue gave readers "an exclusive look at Jennifer Aniston's newly renovated home." Ah, lifestyles of the rich and heartbroken.
"Who wouldn't want to see the inside of Jennifer Aniston's bachelorette pad?" said Elissa Lumley, a spokeswoman for Architectural Digest, in an interview with the Observer.
Ms. Aniston cover sold 118,000 single sale copies, 32,000 more copies than the next highest seller, the May 2010 cover featuring (ta-da!)Ms. Aniston's rumored beau and The Bounty Hunter co-star Gerard Butler (ABC's data runs through the May issue).
They sell elsewhere too! Ms. Aniston and Mr. Butler appeared together on the April cover of W, doing a sexy pose for Steven Klein, which sold 34,000 copies, which is 5,000 more copies than the March cover featuring Megan Fox (the ABC data runs through April).
Ms. Aniston has recently been a safe bet when it comes to selling magazines. Her January 2009 GQ cover in which she wore nothing but a tie was by far the magazine's biggest seller of that year at 330,451. So was her Elle cover from September of that year at 434,399 copies.