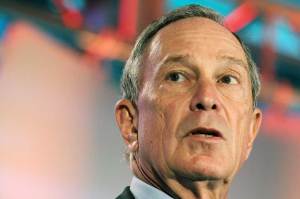 The indictment's now out for Queens GOP operative John Haggerty, who is accused by Manhattan DA Cy Vance of stealing just shy of $1.1 million from Mayor Bloomberg.
Haggerty came under investigation after the mayor contributed $1.2 million to the Independence Party of New York before his November election, $600,000 of which was then paid to a company set up by Haggerty. At the time, that money was said to be used for poll watchers on Election Day. (Another $100,000 was considered a donation to the Independence Party).
Today, Vance accused Haggerty of using virtually none of that money for poll watching, instead stealing about $1.1 million and dividing it between the Independence Party of New York and himself. He then bought a new home with the money, according to Vance. The DA's office claims that "no more than approximately $32,000" of the $1.1 million was spent on Election Day operations.
In all, the charges against Haggerty — grand larceny, money laundering, and three counts of falsifying business records — offer a narrative that is sympathetic to Bloomberg and his sophisticated aides, saying, essentially, that they were duped.
The DA's complaint alleges that Haggerty met with Bloomberg aides — it did not specify who, but said one was "an individual who oversaw his personal, political, and philanthropic contributions" (presumably one of two people in his inner circle) — and detailed a spending plan for the $1.1 million. In its court filings, the DA dubs the spending plan a "series of misrepresentations."
"The defendant's fraud was an audacious scheme to steal funds in order to buy a house, cynically misusing our political party process to hide what was common thievery," Vance said at a press conference today. "The use of Special Elections Operations was particularly egregious because the Independence Party's Elections Board filings did not reveal to any casual observer that the company was nothing more than an alter ego for John Haggerty himself."
According to the indictment, Bloomberg wired $1.2 million from his personal account to the New York State Independence Party Housekeeping account prior to the 2009 mayoral election. This money was forwarded to Mr. Haggerty and his Special Elections Operations in a series of wires to be used for "ballot security and poll watching." Haggerty then used the funds to purchase his late father's estate in Forest Hills, Queens.
Vance said his inquiries have determined no criminal misconduct by the mayor.
"Haggerty was no stranger to Mayor Bloomberg or his campaign staff," he said. "He was a trusted team member, having handled work for the mayor's 2005 re-election campaign."
The mayor declined to comment at a Q&A today.
The indictment and complaint are below.
(With reporting by Amanda Cormier)