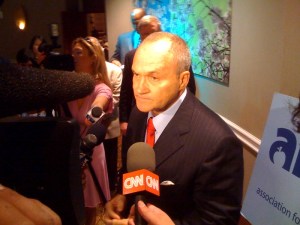 As far as Police Commissioner Ray Kelly knows, there's still a chance Khalid Sheik Mohammed could be tried in New York City.
"I have no reason to rule it out," Kelly said after his speech to the Association for a Better New York this morning.
Other politicians–most notably and vocally–Senator Chuck Schumer have said it's all but known that New York won't host the trial, given the public uproar over the possibility. But Kelly said he hasn't heard anything from Washington.
"All I can tell you is that we provided a comprehensive plan to the Department of Justice. They looked at it. They had no issues with that plan, in terms of the tactics of it," the commissioner said. "We're still awaiting word–like everybody else–as to where that trial will take place. New York City has not, to my knowledge, been taken off the table, so I guess it's still a possibility."