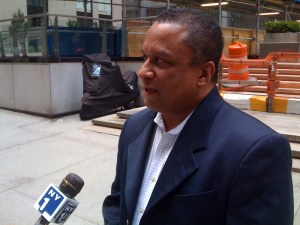 In front of JP Morgan Chase's downtown headquarters this morning, Party Co-chair Charlie King said the Democratic State Committee would be filing a complaint with the Board of Elections requesting an investigation into Rick Lazio's employment with JP Morgan–which is listed on Lazio's filing as "unpaid leave"–to see if the gubernatorial candidate was receiving any in-kind contributions that might violate campaign finance laws.
The "unpaid leave" designation gave King a chance to do what he's been doing for weeks now.
"Honestly, from a political perspective, we don't understand it," King said of Lazio's refusal to release his full tax returns. "Because one of the biggest things I'm going to be talking about is that he's a Wall Street lobbyist."
"So for him to stay connected to one of his Achilles heels, politically–there's no upside for him to do that from a political perspective…which forces the question of why stay connected to something that's going to hurt you politically. And the only to think of is that maybe there's some financial benefit we don't know of."
How does King's steady anti-Wall Street drumbeat square with New York's Congressional Democrats, who have spent the week defending financial services from harsh restrictions in the financial reform bill?
"I think Wall Street has had tremendous problems. The Democrats who are standing up now and saying there are some good things about Wall Street would agree to that fact," King said. "The fact is that when Wall Street was at its worst Rick Lazio was sort of the ringleader in getting everything deregulated and getting us where we are right now. It's no so much an attack on all of Wall Street, all the time, but focusing specifically on what Rick Lazio did as a lobbyist for Wall Street to get some of these regulations that have helped crater the economy nationally."
Lazio spokesman Barney Keller responded:
"Charlie King sounds like he's auditioning for a part on the X-Files, because everyday his conspiracy theories are getting more bizarre and out of control. On the other hand, it is a fact that Andrew Cuomo has taken over $7 million from the special interests to protect Albany's special-interest government. That's something he'll have to address with the voters in November."