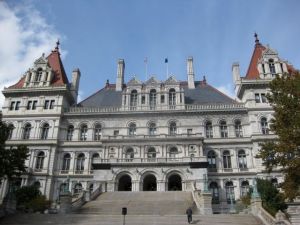 Ever since a law was signed by Governor Pataki in December 1998, New York State legislators have gone without their paychecks, every two weeks after March 31, until a budget is passed.
In theory, this is supposed to encourage an on-time budget.
Not enough, apparently.
With a budget now nearly three months late, the state has withheld $4,212,114 in pay to legislators. According to figures from the state Comptroller's office, $702,019 is withheld every pay period, and today marks the sixth round of forgone paychecks. For the Assembly, this includes a base salary and lulus for committee chairs and leadership posts, although the Senate hands its lulus out in checks and thus just the salary has been withheld.
So why doesn't it work?
Many of New York's 212 legislators have other jobs to supplement income, for one.
And, as Carol Kellerman, president of the Citizens Budget Commission points out, it would be pretty easy to get a loan given that one can assume that, eventually, a budget will be passed.
"They can borrow, they can get loans from friends, and I think banks are willing to loan on this," she said. "So it's not that much of a deterrent."
And finally, not all pay is withheld. Based on the law from 1998 (which was tied to a legislative pay raise), legislators still get per diems–late budget or not. (Per diems are separate from salary–they are reimbursements that legislators submit for days in Albany).
As of Thursday, that meant that $1,156,353.84 has been paid out to legislators since April 1 in per diems, according to a spokeswoman for the Comptroller's office.