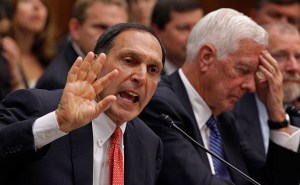 Disgraced Lehman Brothers CEO Richard S. Fuld is no longer seen in high society, but his art is still in all the best places.
On a walk through the Museum of Modern Art's newly re-installed galleries for contemporary art, which open to the public tomorrow, The Observer noticed that the discredited banker and his wife, MoMA trustee Katherine Fuld, donated a couple of the works on display. One of the pieces, a 1989 aluminum sculpture Tanya as Bandit by Cady Noland, features the famous Symbionese Liberation Army publicity photo of Patty Hearst wielding a gun, as well as reprinted lines from AP's coverage of the brainwashed heiress-cum-bank robber.
The couple donated the piece in 2007, only a year before Lehman declared bankruptcy in Sept. 2008. Looks like Fuld's interests in art reflected his interests in life—media frenzies and taking people's money.
These days, Fuld is holed up in his office at the strategically named, mysterious Matrix Advisors. And the art collection Lehman put together, some of it during his tenure, goes on the block at Sotheby's on September 25. The collection, which includes work by Damien Hirst and Richard Prince, is estimated to fetch $10 million. Julie Mehretu is there too: Goldman Sachs was not the only fan.