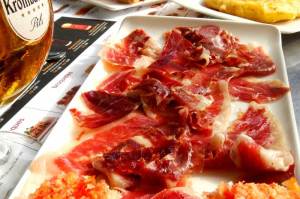 Jezalin's Gourmet Market, in the church-turned-nightclub-turned-mall currently known as the Limelight Marketplace, now offers a $39.95 ham sandwich that will make you question your faith in the recession.
According to The Times, which has a photo of the crusty salute to capitalism, the sandwich is filled with jamòn Ibèrico de bellota — acorn-fed dry ham that tends to run on the expensive side. That said, this sandwich contains a quarter pound meat on a baguette and nothing else.
We thought we'd ditched the era of $1,000 omelets and $175 hamburgers back in 2008. But by far the most frustrating part of this story is how good the thing looks.