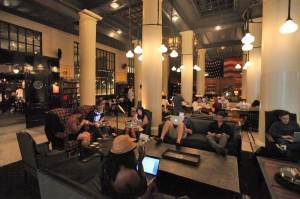 Jeremy Heimans, a 32-year-old tech entrepreneur, sat at a long, rectangular table in the lobby of the Ace Hotel at 29th Street and Broadway on a recent Wednesday morning. He was writing an email on his MacBook, which was plugged into the desk. Periodically, he glanced over at his iPad, which sat on the table next to a cup of coffee from the busy branch of Stumptown Coffee Roasters a few feet away. He was dressed in a gray T-shirt and jeans.
Mr. Heimans was not a guest at the Ace Hotel. He is the founder of Purpose, a start-up company that combines social media, political activism and tech-savvy entrepreneurship to create what the native Australian describes as "21st Century Movements." The Purpose offices are not far away, near Union Square. But in recent months, Mr. Heimans explained, the Ace had become his favorite place to escape from the distractions of the office and get some work done. "At first it looks painfully cool," said Mr. Heimans. "But it's really friendly here. There's none of the attitude you'd find at a place like the Standard."
SIDEBAR > STANDING ON CEREMONY
The combination of good coffee, free Wi-Fi and a welcoming atmosphere were enough to keep the young CEO coming back to work in the lobby on a regular basis. "People don't need all the infrastructure that they used to need," he said.
It's a gourmet experience of doing nothing in a rarefied way. —Alan Smart, unemployed architect and Ace habitue.
Mr. Heimans is not alone. In recent months, the lobby of the Ace has attracted a fervent following among the start-up media execs, permalancer producers, boutique designers and laptop jockeys who populate a burgeoning micro-economy in New York. At a time when many of the city's largest institutions in finance and media can be seen stumbling under their own weight, there's a new pride in smallness. This crowd of would-be industry topplers have embraced the Ace as their daytime home, creating a surprisingly robust lobby scene during work-time hours: a charismatic exhibition of conspicuously lean production.
Rob Smith, a 35-year-old indie filmmaker with a dark beard, was sitting nearby on a red, velvety couch. A MacBook rested on his knees. A green backpack was slumped at his feet. Through a pair of glasses with thick, dark frames, he stared at the computer. He was working on a screenplay. What about? "If I knew what I was writing, I wouldn't be here," he told The Observer.
Mr. Smith said that at the Ace, he felt un-self-conscious. Nobody pressured him to spend money or to move elsewhere. "I like writing on couches," he said. "And I like the architecture of this room." He gazed out at the expansive lobby, dotted with people like him at tables and couches gazing at their MacBooks or chatting over cups of coffee. Muted music floated through the air. The décor was eclectic: vintage photo booth, brass lamps, bookshelves, a bar, fur blankets, glass jugs, plush chairs, a wall covered in postcard-size images of old-school graffiti, vinyl records and a tiled floor. In one spot, two taxidermy badgers stared out from a terrarium. A book with a cracked spine, called Human Dimension and Interior Space, sat on display nearby.
Elsewhere in the lobby, on Wednesday morning, Mimi Rosetti, a 30-year-old neighborhood yoga instructor, was deep in her study of anatomy and nutrition.
Nearby, Jason Rio, 36, who works for a Chicago-based record label, called Aware, checked his email. He said that Aware's New York branch (essentially, him) was "between offices." Recently, he had moved from Brooklyn Heights to 30th and Park. Now when he got sick of working at home, he came to the Ace.
A few feet away, a Dutch industrial antiques dealer named Jeroen Woltman, who was in town scouting objects for his store in Amsterdam, was composing emails. He said he was staying downtown with friends.
Alan Smart, 34, an unemployed architect, also was engrossed in his laptop. He said he was fine-tuning plans to start a nonprofit cultural organization, called the Salvage Art Institute. Looking around the room, Mr. Smart sized up the environment as "a gourmet experience of doing nothing in a rarefied way."
Plenty of hoteliers over the years have created crackling after-work, cocktail-soaked scenes (Ian Schrager at the Royalton, André Balazs at the Standard, etc.). But for a hotel to capture a slice of New York's quotidian professional life, as the Ace has, is a new kind of trophy, encapsulating the city's psyche at a time when a large chunk of our workforce has been cast out of gleaming glass towers, and is now downsized and decentralized, scrappy and humbled.