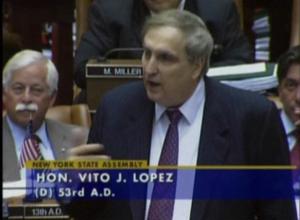 New York's rent regulations, set to expire June 2011, would be extended in their current form by seven years in a bill introduced Thursday in the State Assembly.
The bill, introduced by Housing Committee Chairman Vito Lopez, comes as many tenant advocates had been requesting, in the very least, that the Legislature reauthorize the existing laws some time this year. "People have been asking for us to get the extender in, and take it beyond next year," Mr. Lopez said via phone. "Some of the housing advocates wanted it; we're responding to them."
Mr. Lopez's action comes in response to the uncertainty looming in the Senate—Democrats currently control it, but Republicans could conceivably retake it come November. Tenant advocates therefore worry that rent regulations could be weakened if reauthorized next year rather than now. Republicans have generally opposed rent control and rent stabilization, while Democrats have pushed for stronger regulations.
Whether or not the bill can get through the Senate is another question, and at this point it seems unlikely. Either way, it will be answered in the next few weeks, as the legislative session ends this month (although there's still no budget, which was due in March). As on most any other contentious issue, the chamber has been torn on rent issues, primarily between two factions: those allied with the tenant advocates—Manhattan Democrats like Liz Krueger and Tom Duane—and those who are skeptical or against expanding rent regulations, such as Majority Leader Pedro Espada and Carl Kruger. The result is a stalemate in which few significant housing bills get passed (although the perennial push for the Loft Law, also sponsored by Mr. Lopez in the Assembly, was finally successful this year, as the Senate and Assembly both passed the bill).
Also in the mix on rent regulation is the governor's bill on the issue, one that is pushed by his housing chief, Brian Lawlor. That bill would extend rent regulations this year as well, but with some modifications, including raising the rent level at which a vacant apartment converts to market rate, to $3,000 a month, up from $2,000.
There have been some talks and negotiations between the legislative houses and the governor's office on that bill, and there has been discussion of including it in the budget, likely assuring its passage should there ever be a budget. Mr. Lopez said the governor's office is currently modifying the bill.