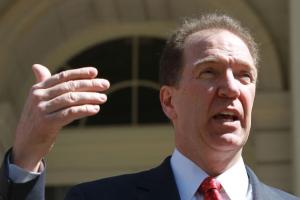 Senate hopeful David Malpass is already out with criticism of the financial reform bill.
"Tough financial reforms are necessary and appropriate, but this bill fails to fix much of what's wrong, and it badly hurts New York small businesses and job seekers in the process," said Malpass, a former deputy Treasury Secretary under Ronald Reagan and George H.W. Bush. "Once again, Ms. Gillibrand has shown her loyalty to Washington leaders at the expense of her New York constituents."
And Malpass employed the now-familiar analogy between Wall Street and more benign-seeming economic engines of other state: "The finance industry is an important part of New York's economy, just as corn is to Iowa and cars are to Michigan."
It's likely to begin a steady stream of Republican criticism of the financial reform deal, which emerged from the conference committee after 5 a.m. this morning in a party line vote–after New York Democrats finally forced Blanche Lincoln to blink on her no-derivative-trading provision.
The Senate is expected to vote on the bill next week.