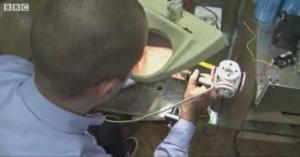 There are do-it-yourself projects—like, say, brewing beer—and then there are do-it-yourself projects—like, say, building your own nuclear reactor. Neither particularly appeals to us, but the latter hobby apparently does appeal to one Gucci Web developer, who has built his own nuclear reactor in Bed-Stuy. According to the BBC:
[Mark] Suppes, 32, is part of a growing community of "fusioneers" – amateur science junkies who are building homemade fusion reactors, for fun and with an eye to being part of the solution to that problem.

He is the 38th independent amateur physicist in the world to achieve nuclear fusion from a homemade reactor, according to community site Fusor.net. Others on the list include a 15-year-old from Michigan and a doctoral student in Ohio.
Apparently, this is legal and safe because neither uranium nor plutonium are used in the atom-fusing process:
"As long as they [private citizens] obtain that material [the components of the reactor] legally, they could do whatever they want," says Anne Stark, senior public information officer for California's Lawrence Livermore National Laboratory.
Even so, the notion of your neighbor building a nuclear reactor does have the potential to be somewhat unnerving.
More here.
drubinstein@observer.com