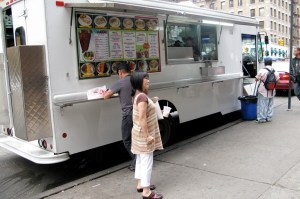 Mayor Bloomberg apparently wants to get taco trucks under control after all.
Two days after his administration signaled opposition to a bill pushed by Councilwoman Jessica Lappin that would clamp down on food trucks, the mayor this morning on his radio show said he wanted to clamp down on the vendors. (Her bill would strip vendors of licenses if they get more than three parking tickets in a year.)
"Jessica Lappin," he said when asked about the trucks "my City Council person–I think she's mine. Very smart, wants to do it. I agree with it, [she's] just doing it the wrong way.
"The Health Department does not have the staff to go and do it the way she wants, but we're trying to find another ways to accomplish because she is right."
The trucks have ballooned in the past few years, with vendors selling gourmet cupcakes and high-end ice cream, in addition to tacos and gyros. He termed the explosion of these carts "moving stores into the streets," a concept he condemned:
"Moving stores into the streets is not what the streets were designed for, and that's exactly what we're doing. We are moving stores into the streets and they sit there and they park and they take up parking places and they block traffic. We have decided the streets are for people and the sidewalks and bicycles in a bicycle lane, and buses in a buses lane, and cars and trucks in the other, and not the stores."
And so starts another chapter in the complex mayorality of Mike Bloomberg, who vacillates between a free marketer and a nanny stater, depending on the issue.
ebrown@observer.com