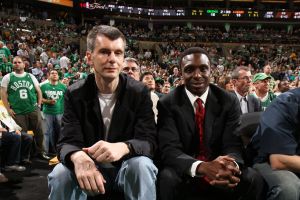 In Boston last night, Russian billionaire Mikhail Prokhorov and his newly hired coach of the Nets, Avery Johnson, walked into Game 5 of the Finals between the Celtics and the Lakers together, and took a pair of baseline seats.
Just a few hours prior, the two men met for the first time in Mr. Prokhrov's hotel suite, according to the New York Daily News.
Proportionally and culturally speaking, Mr. Prokhorov and Mr. Johnson are a funny pairing. Mr. Prokhorov is 6'9 and speaks like the Terminator meets Russian mobster. Mr. Johnson, formerly the coach of Mark Cuban Dallas Mevericks, is 5'11 and has a nasally, Louisiana twang.
When asked what Mr. Prokhorov has in common with his new coach, the billionaire answered, "We are both gym rats," Mr. Prokhorov said. "We spend hours in the gym and we are hungry to win. He was nicknamed 'The Little General' and my nickname is 'The General.' It's a match made in heaven."