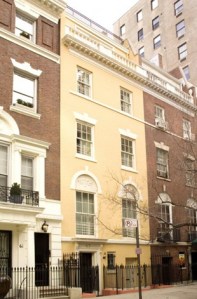 Patsy Kahn, wife of toy mogul and Madoff-penthouse purchaser Al Kahn, told the New York Post of her recent apartment acquisition, "[Al] was worried about the karma but I just loved the terrace!"
The six-story townhouse at 63 East 82nd Street doesn't have a terrace, it has two, and a garden-which is a good thing because, like the Madoff abode, provenance was not going to be its selling point. Besides terraces, the two homes have Ponzi-scheme-wielding former owners to connect them; indeed, Lawrence B. Salander, former director of the once-prestigious Salander-O'Reilly Galleries, may well be considered the Bernie Madoff of the art world, with the former Manhattan district attorney Robert Morgenthau calling Mr. Salander's Rembrandt rip-off racket "the biggest art fraud in New York history." The sexagenarian, described as "manacled and grimacing" at his arraignment, has since pleaded guilty to grand larceny and fraud to the tune of $120 million bilked from customers (including tennis ace John McEnroe and former Observer publisher Arthur Carter) and investors; he faces up to 18 years in prison.
Out of court, things are going a little better. According to city records, the 20-foot-wide, butter-yellow Georgian facade townhouse, where the con man resided with his wife and children, was bought by husband and wife Benedict Aitkenhead, head of Credit Suisse's mortgage sales, and physiatrist Ifeoma Okoronkwo for $13,950,025, which may include concessions in the deal.
"Not at all," Lydia Rosengarten of Leslie J. Garfield replied quickly when asked if, like Mr. Kahn, Mr. Aitkenhead and Dr. Okoronkwo had any qualms about the building's karma. She had the listing with Jed Garfield. "The building obviously had its issues, but so much time has passed since the initial eruption that they were looking at it simply as a home."
Originally listed for $25 million before being slashed to $15.995 million in the spring of 2009, the seven-bedroom home, bought by Mr. and Ms. Salander in 2004 for $4,750,500, was once the longtime residence of playwright Lillian Hellman. After it went off the market for eight months, First Republic Bank re-listed the home late last year. "The bank that held the deed put it back on the market with us after the place had been vacated."
The sumptuous Georgian facade and interior is an upgrade from Mr. Aitkenhead and Dr. Okoronkwo's four-bedroom co-op at 47 East 88th Street-the Salander mansion has nine bathrooms and a dumbwaiter. The listing boasts a "wide sweeping staircase" throughout with a large landing on each of the six floors, which, according to Ms. Rosengarten, the new owners plan to expand further.
Mr. Aitkenhead could not be reached for comment, as he is currently vacationing with his family for two weeks, perhaps to celebrate a successful home purchase (but more likely because school just got out).
One broker not involved in the deal but familiar with the property noted the proximity to both the playground of P.S. 6 and the neighboring Scientology Center: "It faces into the schoolyard, and P.S. 6 isn't what it used to be-children are very loud these days."
Ms. Rosengarten begged to differ. "On the contrary, the benefit is that there are no buildings behind you and you get wonderful light. Also, it's elementary school kids playing. It's a very nice sound!" She did say that the home "needed a little updating," noting that it was left a bit neglected by its previous owners.
Will the new owners' children attend next-door P.S. 6?
"No, they go to private school."