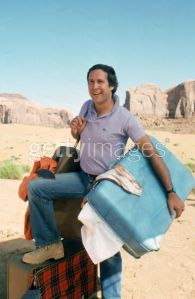 John Golden, a broker at Douglas Elliman, is re-listing the East Hampton estate that he sold nine years ago to Peter and Juliana Terian.
It wasn't easy—the seller back then made Mr. Golden nervous.
"I always got nervous when I brought people to see the house when he was there, because he was a big prankster," Mr. Golden said of Chevy Chase. "You never knew what he had up his sleeve."
But Mr. Golden doesn't have to worry about pranks this time around, unless the exorbitant listing price is a gag: Mr. Chase's former estate at 19 Lee Avenue, plus an adjoining property also bought by the Terians, was recently listed for $33 million. The sprawling, 3.2-acre property, which spans from Lee Avenue to luxe Lily Pond Lane, breaks down thusly: 2.1 acres at Fletch's former abode, and 1.1 acres at 18 Lily Pond Lane.
Mr. Chase, who currently lives in Bedford, N.Y., sold the historic home to the Terians for $10.1 million in 2001. Peter Terian, who resided at the Dakota when not summering on the East End, was a French émigré and prodigious art collector who founded Rallye Motors (one of the nation's leading car dealerships); tragically, he succumbed to prostate cancer in the fall of 2002. However, in 2004, his wife went on to purchase 18 Lily Pond Lane (which abuts the back of the Lee Avenue address) for $6 million from Walter J. Fried, a prestigious real estate lawyer responsible for the conversion of Manhattan buildings such as the Beresford and the Ritz Tower into co-ops.
"She bought it because it was a good investment but also because it gave privacy," Mr. Golden said of 18 Lily Pond. "Neighbors should always buy the houses next door to them," he added, as if an edict. "It's an unwritten rule of real estate."
The main home at 19 Lee (the estate clusters a handful of houses) is a "classic Summer Cottage" circa 1895, which, according to the listing, has been meticulously updated while retaining the "ineluctable elements of the Shingle Style."
"It's one of the finest houses of the shingle style in East Hampton," Mr. Golden said. (Quite a superlative considering pretty much all of the houses in East Hampton are shingled, save a handful of handsome Gwathmeys.)
"Cottage" is perhaps a misleading descriptor for the 10,000-square-foot, 10-bedroom home with a fireplace-equipped entry foyer, a sun room and six bedroom suites on the second floor, including the "sumptuous" master wing with a private sitting room, double dressing rooms and baths. An "expansive" patio and covered porches overlook the bucolic bundle of manicured gardens and century-old trees, within which are nestled an elegant swimming pool, a pool house and a children's playhouse.
As Mr. Golden explains it, Ms. Terian is less interested in maintaining the expensive and expansive double property. The above described Lee Avenue address is offered for $25 million; the adjoining 1-acre property, with the closer-to-the-ocean Lily Pond Lane address and a "charming" 1940s four-bedroom home, with its own pool, can be purchased separately for $8 million.
Better yet, the entire property can be scooped up for the bargain $33 million. Which gives buyers two options: Buck up, be the ball and buy the whole thing for an estate bigger than Bushwood Country Club, or be a tremendous slouch and buy only one of the two; but make sure to get some hedges growing soon-you never know who your $8 million (or $25 million) neighbor might be.
If you're deciding between the two properties, you could take a tip from Mr. Rogers and decide who you want to be your neighbor: Sydney Lumet across the street on Lee Avenue, or Martha Stewart four doors down on Lily Pond (personally, we would go with Martha; we love Dog Day Afternoon but it never baked us any pies).