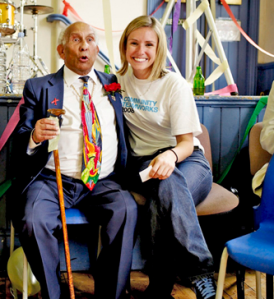 In this week's Observer, I wrote about Wall Street's season of summertime do-gooding. There's this week's Morgan Stanley Social Enterprise Strategy Challenge, for example, and a Goldman Sachs program called Community TeamWorks that takes bankers to animal shelters, nursing homes, lakes and beyond.
After deadline, I spoke to Sue Sims, the director of community relations and development at the Margaret Anna Cusack Care Center at St. Joseph's Home for the Blind. Goldman volunteers will handle decorations for a July 7 party at the center—which is now an elder-care facility and not solely for the blind, though some people who live there do have visual impairments.
The theme is Americana ice cream parlor. Ms. Sims said that there will be Independence Day decorations on the walls, music for dancing ("it's usually the oldies, because they're old") and red-and-white aprons on the Goldman people.
Considering that the bank gives its employees one day to volunteer annually and strongly encourages them to take it, do they seem like they actually want to be there? "It's mixed. Some you do get the feeling, 'Oh, they got the day off.' But for the most part I don't think that's true. Once they come here, they get a better sense of what we're doing, and get into it," she said. "We like what they do here."
Goldman Sachs helps pay for supplies, which include a cart for ice cream, a soda fountain and fixings. "We go the whole hog with all the toppings and all that," she said.
Ms. Sims follows financial news, and is aware of Goldman's vilification. "I've only dealt with them on a business level with their volunteering," she said, "and I've never had any issues with that."