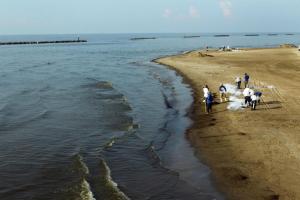 New York's pension fund might sue BP, after losing $30 million on the company's stock.
Rahm Emanuel said President Obama has to get tough sometimes because "corporate America was not only at the table, they owned the table and the chairs around it."
The mayor and his predecessor disagree over President Obama's handling of the crisis.
The DNC is going after Texas Republican Joe Barton for apologizing to BP.
The Post reports that Senate Majority Leader John Sampson leaked the Aqueduct memo.
The Times dissects Floyd Flake's no-bid purchase of property from his church.
Andrew Cuomo said questions about why he didn't investigate Steve Pigeon are "silly."
The Mayor's Office of Film, Theatre and Broadcasting nixed a Jay-Z show atop the Ed Sullivan Theater.
Hillary Clinton's statement that the Justice Department will sue Arizona have upset the state's governor.
The Times editorial board would like a budget to get passed.
Roger Stone is sticking up for John Haggerty.
Harry Reid's challenger doesn't want to answer many questions, and her spokesman is calling reporters things that can't be printed.