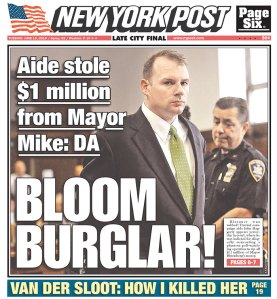 The money given to John Haggerty Jr. came from the mayor's personal funds, not his campaign account.
A Post source thinks Mayor Bloomberg might have just given him the money, if Haggerty had asked.
Independence Party Chair Frank MacKay declined to comment to the Daily News.
Haggerty was the "weird" guy in the GOP.
One state agency was a little quick with planning for a shutdown.
The extender passed with four-and-a-half hours to spare.
Hugh Farley was one of three Republicans to vote for the budget extender, but said not to count on him for any more.
Despite $188 million in support for low-income services, Ruben Diaz Sr. remained unmoved.
A retired teacher says the New York Senate needs to fully fund schools.
Page Six says CNN is searching for a conservative counterweight to Eliot Spitzer.
Rick Lazio wants to see a budget.
Cy Vance wants to see tougher identity theft laws.
And the Long Island rabbi who recorded Helen Thomas talks to Newsday.