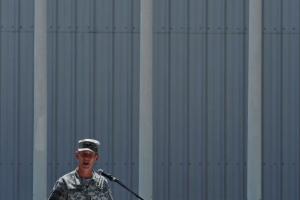 General Stanley McChrystal regrets talking to Rolling Stone.
He'll get to explain it in person to the president.
Politico has the story, literally.
Budget Director Peter Orszag is out.
In 2006, Mayor Bloomberg gave $25,000 to Rod Blagojevich, who was so often missing that Bradley Tusk would just sign or veto bills himself.
How formery City Councilman Larry Seabrook is like the Kennedys.
The five attorney general candidates talked pensions–among other things–at a forum yesterday morning.
The American Heart Association thinks 100,000 people will quit smoking because of yesterday's hefty $1.60-a-pack cigarette tax hike.
One tribal leader said a crackdown on Native American sellers would be an "act of war."
Harry Wilson's Score: Comptroller candidate earned $250,000 from Silver Point Capital in 2009.
David Paterson dropped by the Senate chamber last night.
Faisal Shahzad pleaded guilty.
And, an upstate state senator on conjugal visits.