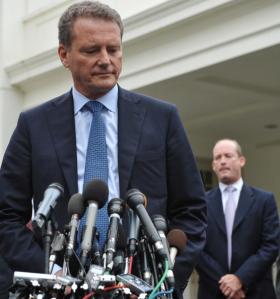 BP cares about the "small people."
It might have been a "slip in translation" by the company's Swedish chairman.
President Obama is starting to win over the Ragin' Cajun.
Richard Ravitch hopes legislators will listen to him.
The Post hopes they won't.
The Times says a new budget will almost certainly include borrowing.
Senate Majority Leader John Sampson held a fundraiser at Yankee Stadium on Sunday.
CapCon has video of yesterday's leaders meeting.
Former state Senator Carl Andrews has been asked to turn over a memo that investigators hope will prove AEG had inside Aqueduct information.
Charlie Rangel has a rainy day fund.
State Senator Eric Schneiderman wants the Senate to take another shot at his microstamping bill.
Kevin Parker–"first don" of Tang Soo Do Moodukkwan–considers himself the best spokesman for the MMA bill that passed the state Senate Wednesday.
There could be intense grappling at Madison Square Garden as early as fall.
Nixon ally Henry Kissinger to fundraise for the old boss's grandson, Chris Cox.