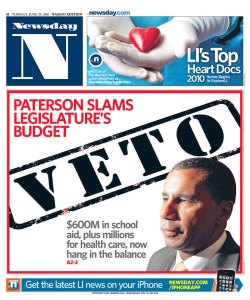 David Paterson vetoed the Legislature's budget bill.
"It breaks my heart to do it," he said.
The governor accused legislators of "gimmicks, chicanery and avoidant conduct."
Paterson said he will veto all 6,900 amendments in the Legislature's bill.
To override the vetoes, Democrats will need the help of Republican senators.
Bill Hammond seizes on Senator Carl Kruger's admission he didn't know the amount of the budget bill, and declaries it a win for Paterson.
The Post has a picture of the governor's budget just sitting there, on the floor.
The Monserrate Movement in Queens.
Congressman Ed Towns is looking into the census problems in Brooklyn.
Harold Ford Jr. resurfaces tonight at a DL21C event.
Elena Kagan says she'll "respect" Congress.
Brian Stelter looks at the woman running against Harry Reid.
Chris Cizzilla puts the Schumer-Durbin majority leader drama on his list of things to watch in today's Kagan hearings.
Another one to watch: the late Justice Thurgood Marshall.
White House Political Director Patrick Gaspard left $37,000 in carried-over pay from SEIU 1199 off his financial disclosure form.
Mayor Bloomberg's administration is overwhelmingly white at the top.