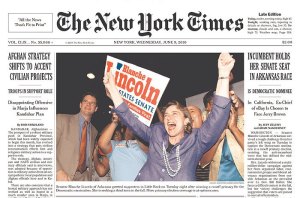 Incumbency didn't help last night, except maybe in Arkansas.
How Blanche Lincoln hung on.
Women did well.
Newsweek calls its a "Sex Change."
The Daily News focuses on the money.
Harry Reid got the conservative opponent he wanted in Nevada.
Charles Hurt still thinks Reid's woes are good news for Chuck Schumer.
Pedro Espada Jr. is hatching something new.
Bill Hammond is worried.
David Paterson is turning some screws.
"Oddly enough, sometimes you feel a lot more responsible for what happens in the next administration than even in yours," he told the Buffalo News.
The Times sort of praises him.
Andrew Cuomo's running mate, Mayor Robert Duffy, said he would resign if his L.G. run starts shortchanging the people of Rochester.
The T.U. thinks Cuomo should "stop meddling" in the A.G.'s race.
Sonia Sotomayor votes how you might expect.