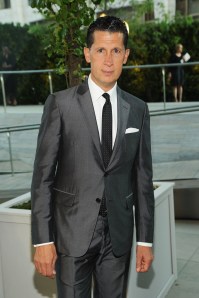 In a few short months, W magazine will be moving out of the Fairchild ghetto on Third Avenue and into space on the 19th floor of the Condé Nast building at 1166 Sixth Avenue, Stefano Tonchi told The Observer this afternoon.
"They were probably bank offices before," Mr. Tonchi said.
That will not work!
"They probably have to be reconfigured to be a magazine offices especially when you think about a magazine that needs closet, art department and a studio," he said.
Mr. Tonchi said that he requested that Condé Nast add closet space to the floor to help keep shoes and clothing racks out of the way. Renovations to the office will also add an art department and a photography studio.
"They are building for us a studio, a proper studio," he said.
The studio will allow fashion news and features director Armand Limnander, who Mr. Tonchi brought along from T magazine, to compose the front of book in house.
"There's no big extravaganza," Mr. Tonchi said. "Sure, there's going to be a reception area that will be branded like W and a conference room that has to be branded as W because that's where you see people."
Unlike James Truman, who, as editorial director of Conde Nast, oversaw the design of the magazine empire's space at 4 Times Square, Mr. Tonchi said he was only contributing to the design of W's new office space, but would not take full credit. Mr. Tonchi added that he would seek guidance from Annabelle Seldorf about how to decorate his personal office.
W will move into the new space at the end of August, shortly after Mr. Tonchi's first issue hits stands. What will that September issue look like?
"There are going to be adjustments to the photography, typography and features, but it will be an evolution of what it was before. You don't want to surprise anyone," Mr. Tonchi said.
"This is probably more elegant, I hope.