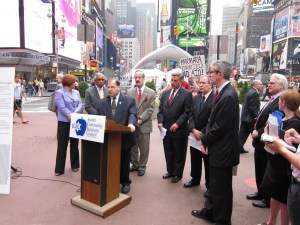 Five members of New York's congressional delegation–along with City Council Speaker Christine Quinn and Manhattan Borough President Scott Stringer–this morning called on the State Department to hold off on granting visas to members of the Gaza flotilla.
"It's imperative that the State Department investigate anyone who was on that ship who applies for visa to the United States," Representative Jerry Nadler said at a press conference in Times Square. "It's not that they should all be denied, but they should all be investigated."
Three passengers from the flotilla–which attempted to break a maritime blockade to Gaza enforced by Israel Defense Forces–are scheduled to speak in Brooklyn on Thursday, at an event hosted by Al-Awda, The Palestine Right to Return Coalition.
Members of the delegation and City Council joined the Jewish Community Relations Council of New York in a petition asking the State Department to investigate whether the flotilla's sponsoring organization, The Foundation for Human Rights and Freedoms and Humanitarian Relief, has active ties to al-Qaeda, Hamas and other groups identified as terrorist organizations.
City Council Speaker Chris Quinn demanded the State Department fulfill due diligence before granting entry to the flotilla's passengers. "We are here to strongly urge the State Department to investigate visa applicants associated with IHH and any flotilla passengers applying for visas to ensure they have not disqualified themselves for visas," Ms. Quinn said.
One man with a video camera and voice recorder booed members of the delegation as they advocated support for Israel.
"The people that were on that flotilla should not be allowed to come to the United States to spew their propaganda," said Representative Eliot Engel.
"Censorship!" the man yelled.
"The only one trying to censor is you," Mr. Engel said. "You're trying to yell me down."