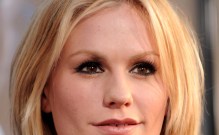 This past week, in a victory for choir kids everywhere, the season finale of Glee trounced the Celtics and the Lakers and took the top spot in New York's weekly ratings rankings.
The Tony Awards managed to pull off a third place finish.
While it failed to crack the top ten, the season premier of HBO's True Blood, put up big numbers for a premium cable channel, finishing in the number twelve spot overall, with 624,000 viewers.
Way to go, sssssSOOKie!
(1) Fox-5….Glee….1,247,000
(2) ABC-7….NBA Finals Game 5….1,192,000
(3) CBS-2….Tony Awards….1,123,000
(4) ABC-7….NBA Finals Game 4….1,012,000
(5) ABC-7….NBA Finals Game 3….998,000
(6) CBS-2….60 Minutes….874,000
(7) Fox-5….So You Can Dance….830,000
(8) CBS-2….The Mentalist….710,000
(9) Fox-5….Hell Kitchen….687,000
(10) CBS-2….NCIS…678,000
(Top 10 shows in New York, June 7 to June 13, according to Nielsen Data (total viewers, time shifting/DVR not included)