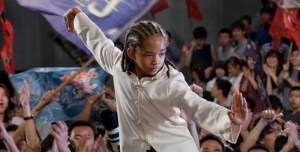 The '80s are back in full effect this weekend, so dust off and throw on your acid wash jeans and head out to the multiplex. Here's a handy guide to the new releases.
The Karate Kid
What's the story: If you're the type of person who still works "stupid bike" into everyday conversations, then maybe this remake of The Karate Kid isn't for you. But for the Twilight generation — the generation that was but a twinkle in their parents' eyes back when the original film came out in 1984 — The Karate Kid could be just what the doctor ordered in this summer of discontent. Jaden Smith — better known as Will Smith's son — stars as Dre, a Detroit youngster who moves to China with his widowed mother (Academy Award nominee Taraji P. Henson), quickly falls for a local girl and gets into trouble with the school bullies. Enter a local handyman named Mr. Han (Jackie Chan), who teaches young Dre the way to defend himself. So, yeah: It's basically the original film all over again, except in China. The reviews have been on the good side of mixed, but a prohibitive running time (almost two and a half hours) might cause you to pause before buying a ticket.
Who should see it: Ralph Macchio and Billy Zabka.
The A-Team
What's the story: Speaking of the mid-'80s, pity the fool who thought they could go through life without seeing a big screen adaptation of The A-Team. Liam Neeson, Bradley Cooper, District 9 star Sharlto Copley and UFC fight Quinton "Rampage" Jackson star as the titular group of ragtag mercenaries in Joe Carnahan's loud, expensive and apparently cobbled together summer spectacle. Based on the reviews, the plot is nonexistent — beyond the explosions — but expect the plan to come together in the end. Those looking for thoughtless summer frivolity have found their destination.
Who should see it: Mr. T.
Also opening this weekend: Even more '80s nostalgia! In the absolutely wonderful Joan Rivers — A Piece of Work, the brash comedic icon recounts her failures as a talk show host and much, much, much more. See this film post-haste. And while you're at it, check out Coco Chanel & Igor Stravinsky, which our Rex Reed calls "one of the most bountiful experiences of the year."