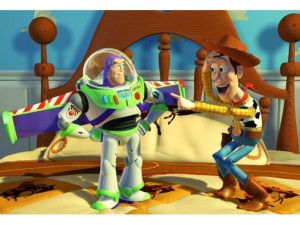 There's something for everyone at the multiplex this weekend! Here's a handy guide to the new releases.
Toy Story 3
What's the story: Just how good is Toy Story 3? Well, as of this writing, it has 98 reviews listed on Rotten Tomatoes and every single one is positive. So, yeah … the critics are wild. And based on the tracking, audiences should be as well — Toy Story 3 is positioned to have one of the biggest openings of the summer. Woody, Buzz Lightyear and the rest of the gang return in the third go-around, which finds Andy headed to college and the toys off to a day care center. Laughs, lessons and many adult tears will probably follow. It is a Pixar film, after all. (We're still crying over Up).
Who should see it: Carl Fredricksen.
Cyrus
What's the story: The summer of Jonah Hill continues! Hill — who can also be seen in Get Him to the Greek — co-stars as the titular Cyrus, the adult son who tries to come between his mom (Marissa Tomei) and her new lover (John C. Reilly) in increasing bizarre ways. Mumblecore titans Jay and Mark Duplass direct, and if the trailer is any indication, they've got enough awkward moments in this movie to make Larry David cringe. The reviews have been good — though our Rex Reed compared Cyrus to teeth cleaning in his one-eyeball review — so expect Cyrus to play like an oasis for discernible moviegoers in a summer filled with garbage.
Who should see it: Judd Apatow.
Jonah Hex
What's the story: Say hello to what should be the first legitimate bomb of the summer. Jonah Hex is a mess — the behind the scenes woes included reshoots, the firing of the original directors (Mark Neveldine and Brian Taylor) and a final product that clocks in at just over 80 minutes with credits. The shame of Hex is the massive wasted opportunity. It comes from the D.C. Comic about an anti-hero out for revenge (dark!) and features what could be the coolest cast of the year: Josh Brolin as Hex, John Malkovich as the villain, Megan Fox as the eye candy, and heavy hitters like Michael Fassbender, Michael Shannon, Lance Reddick, Aidan Quinn, Wes Bentley and Will Arnett in supporting roles. Imagine the possibilities! Too bad the reviews are some of the worst of the year. If you know someone who wants to actually see this thing, take a picture of them; they might be as rare as seeing a Sasquatch.
Who should see it: The Man With No Name.
Also opening this weekend: The wonderful Casey Affleck leads the dark and crazy violent The Killer Inside Me; Tilda Swinton stars in I Am Love.