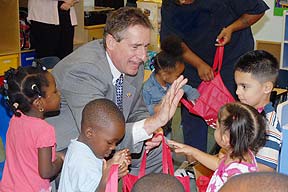 Governor David Paterson sent a bill to the Legislature today that would transfer control of Rochester schools to Mayor Robert Duffy, who was picked last month as Andrew Cuomo's running mate.
"The future of Rochester depends on its children, and the legislation I am proposing today will make them the first priority of the City's education system," Governor Paterson said in a press release.
The bill–which Mr. Duffy has championed for months–mimics the controversial mayoral control bill that gave Mayor Bloomberg control of New York City schools in 2002. The release cites the low four-year graduation rates in Rochester–consistently in the neighborhood of 50 percent; second-lowest in the state last year–as one of the reasons for wresting control from an elected school board. "The Mayor, as the Chief executive of the City will be held accountable for producing results," says the release.
Although, it's unclear whether Mayor Duffy will be around to see the results. The release says the bill would take effect immediately, with some provisions postponed until next July. Should Mr. Duffy succeed in his bid for lieutenant governor, he would assume his new office on Jan. 1. Yesterday, he told local media he'd resign even sooner if his campaign schedule comes to interfere with his duties as mayor.