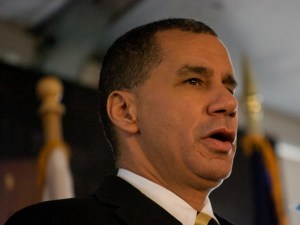 Governor Paterson put out an ultimatum on the budget today, saying if a budget is not passed by June 28, he would force the Legislature's hand and insert the rest of the budget into an emergency extender bill, thereby risking government shutdown once again.
"This process has got to end. And it's time to set a deadline, and I'm going to set one. This budget will be passed by June 28," Paterson said at a meeting with legislative leaders this morning. "You can plan your schedules. Local governments and not-for-profits and school districts will know exactly where they stand by June 28. It is important that we move in this direction. I am not threatening anyone. I am just making a promise."
At least at the public meeting, his threat—or "promise"—didn't receive push-back from the other leaders, who said they hoped to reach a deal in coming days. Still, if the governor follows through, this once again threatens a government shutdown, and this time not over differences of a couple hundred million dollars.
At the same time, the governor ruled out some of the ideas thrown around to close the budget. He took a clear stance against borrowing, calling it "'antithetical to the process," seeming to throw dirt in the grave for much Lieutenant Governor Dick Ravitch's plan.
"I will not sign a budget that has any deficit financing in it," he said. "I don't want any borrowing, tobacco bonds, or any other way of meeting this end."
Of course both the Assembly and Senate have proposed borrowing in their own plans—be it tobacco bonds refinancing or other forms. So if the governor indeed sticks to his word, that would seem to mean one of four things will be needed to fill the gap: more one-shot revenue raisers (which increase the "structural deficit" between annual revenue and spending), more cuts than any side has proposed (which seems unlikely), more taxes, or a disingenuous budget that rests on optimistic assumptions.