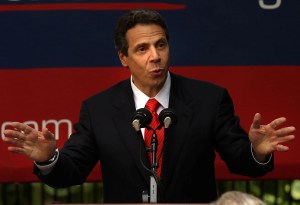 Governor Paterson doesn't have many allies left in Albany. Democrats in the Legislature resent how he is forcing them to vote on his budget extenders, and Republicans lawmakers beat up on him for not including their ideas. He consistently threatens the public sector unions with layoffs, and both the education and health care unions took big hits in his budget.
So it comes with a bit of irony that the one figure in state government who is stepping up to defend the governor is the man who was, until March, Paterson's political rival: Andrew Cuomo.
Speaking to reporters today at an event in which he announced an expansion of an investigation of mortgage companies—Liz has video here—the attorney general firmly got behind the governor's confrontational action on the budget this week, for which he has been trying force the Legislature to vote for his cuts to education, a property tax cap, taxes on soda, and the sale of wine in grocery stores, among other issues. (The action, an emergency weekly budget extender, may not come up for a vote at all, however, as the Legislature has refused to physically receive the bill.)
He was full of praise: He supported the governor's call for the Legislature to have a contingency plan if Congress doesn't deliver Medicaid money ("The Legislature is dreaming on this one."). He backed the inclusion of a property tax cap in the weekly extender ("It is long overdue … the governor was right to put it in his proposal"). And, notably, he endorsed the governor's strategy/threat to let the Senate and Assembly pass their own budget, and then line-item veto everything he wants to take out of it, including earmarks.
"If negotiation doesn't work, then they can pass their budget, he said, "and the governor can line-item veto all the additions and line-item veto the member items, so it would literally just be the budget bills that were submitted by the executive. And that's what they're looking at."
This is only the latest bit of praise the presumed governor-in-waiting has had for the sitting governor's budget strategy, as he has previously backed the unprecedented strategy of including larger budget cuts in the weekly budget extenders, and called for the property tax cap to be in the extender.
Of course, Cuomo's gain from this situation is obvious.
The more Paterson wrests from the Legislature now—both in terms of budget cuts and in terms of acquisition of power—the better positioned Cuomo would be as governor next year. Any recurring cuts made now, as opposed to one-shots, make next year's budget hole that much smaller. And Paterson's placement of long-term cuts and revenue into emergency budget extenders, still legally uncontested, gives the next governor tremendous power to force a budget by March 31 next year. 
-With reporting by Michael Gonda