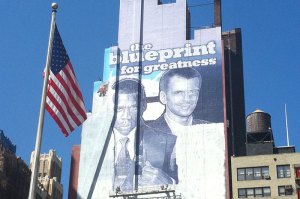 Enough with the spies already! This afternoon, New York's favorite Russian was busy with his own brand of deviousness.
Mikhail Prokhorov, the new owner of the Brooklyn-bound Nets, has erected a mural just outside Madison Square Garden depicting himself and Nets co-owner Jay-Z accompanied by the tagline "The Blueprint for Greatness." According to ESPN, it was designed to be seen from the Knicks' offices and here's the kicker: it's scheduled to be completed just before midnight tonight, when the NBA's free agency begins.
Tabloids have recently been awash with stories about Jay-Z's courtship of LeBron James, but there's no telling if the man behind the "Blueprint" trilogy signed off on the volley fired at 34th and 8th.
Prokhorov, who once showed 60 Minutes his AK-47, had been soft-pedalling his image of late, so this signals a big change for the oligarch. A 225-foot-by-95-foot change, to be exact.
Though, as a general advertisement it may be a bit too insider-y. Messenger Alvaro Gomez didn't recognize either of the Nets owners as he walked by the mural today.
"I thought they looked familiar," he said. "[But] I thought it had something to do with that TV show, Rescue Me."
Additional reporting by Michael Gonda.