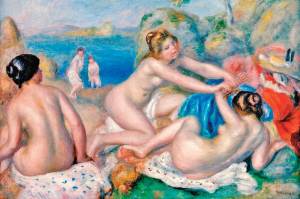 Art history is a lot more fashionable and faddish than most people in the paintings business would like to admit. In 1956, the Museum of Modern Art acquired Pierre-Auguste Renoir's spectacular 1902 Reclining Nude. In 1973, it went on display at the Art Institute of Chicago, which described it in a catalog as a "monumental nude … of power and full authority." In 1989, MoMA sold Reclining Nude because "it simply didn't belong to the story of modern art that we are telling," explained curator Kirk Varnedoe at the time. Similarly, the Metropolitan Museum of Art, in the 1980s, parted with a late Renoir, too. Curiously, at the same time that late Renoir was resoundingly "out," paintings by the artist in his prime, which have a different look, were decidedly "in." Renoir's 1876 Le Moulin de la Galette sold for $78.2 million at Christie's auction house in 1990, breaking the record for a work of art.
This week, the Philadelphia Museum of Art opens one of the East Coast's biggest summer blockbusters, "Late Renoir," and opens up, again, a long-standing debate on the artist. The show features 80 works the painter did in the last three decades of his life, flanked by a handful of works by artists he influenced, such as Henri Matisse and Pablo Picasso (timed tickets to the exhibition are $27 for adults, $17 children). The Philadelphia Museum of Art was the first in America ever to stage a Renoir exhibition, according to director Timothy Rub, and these last three decades of his life document the "least understood" but "most joyful" part of it.
Late-in-life happiness, so the art theory goes, turned Renoir sentimental: His nudes became too rosy, and he overdid it on beribboned hats.
Indeed, that "joy" may be the problem in a nutshell. Recent art history has judged works Renoir painted in the last years of his life as wanting: The painter was simply too happy. Settling down, marrying one of his models and becoming a papa (to three sons, including legendary French film director Jean Renoir), so the theory goes, made him sentimental. The brilliant coloration of such earlier masterpieces as Girl with a Watering Can turned one-note rosy, his nudes indistinct. He overdid it on beribboned hats. Late in life, conventional wisdom holds, Renoir went from painting deliciously pretty candy-box covers to portraits of women who'd eaten too much candy. Jennifer A. Thompson, curator of the show at the museum, has a different interpretation: "Many of his late paintings evoke a summer paradise."
Plowing right into the heart of the debate, the Philadelphia Museum of Art show begins right at this critical turning point in his life, when Renoir was, some have held, on the decline. The show "opens in the 1890s; he was working on genre paintings, the kind that sells. He married a model in 1890, the mother of his three sons," said Ms. Thompson. At this point, the painter was 50, famous and reasonably financial secure. His breakthroughs behind him, he traveled to Italy to study, and to emulate, the Renaissance works of Raphael and the fleshy nudes of Peter Paul Rubens. "He often spoke of loving models whose skin took the light," Ms. Thompson said.
The young Renoir of the 1870s and 1880s was, in contrast, a rock star. Credited with helping to overthrow French academic painting (a structured curriculum for artists that began with months of Old Master-style drawing), he championed painting in the open air; portraiture of ordinary people; and fluid brushwork. In an age where people fought over the latest salon art show the way they would discuss The Real Housewives of New Jersey today, he inspired debate, fierce loyalty and the generation of artists who followed him.
So why do a show of what some may consider Renoir's "off" years? A couple of reasons: The museum already owned many of the paintings, making it a relatively inexpensive show (for them, at least; it also toured in Paris and Los Angeles), and there's the eternal box office draw of Impressionism. Plus, baby boomers love "Late" art shows. The idea that someone who was thought of as past his peak and over could make radical contributions late in his life is a happy ending. Indeed, the show has been renamed "Late Renoir," a change from the "Renoir in the 20th Century" title it carried in L.A.
But, mostly, the Philadelphia Museum of Art did the show because art history may be ripe for rewriting. "The works were widely admired at the time but are poorly understood now," said curator Thompson. Scholarship has switched sharply on late Picasso and late Monet, for example (the best late-in-life works by both were once deemed consolation prizes for collectors; now they sell for tens of millions). Can it turn on a dime again?
The show (Organized by the Réunion des Musées Nationaux, Musée d'Orsay and the Los Angeles County Museum of Art, in collaboration with the Philadelphia Museum of Art) argues that Renoir's last decades were among the most fertile, innovative and artistically courageous of his life, a time when he sought successfully to build bridges between what came before Impressionism and what came after. Through Sept. 6, visitors are invited to judge for themselves.
Renoir, who died at the age of 78 in 1919, has "long had its admirers and detractors; until the 1940s, most were admirers. … Late Renoir [paintings were] considered fundamental to a modern art collection," said Ms. Thompson.
Picasso, not incidentally, owned a few.
apeers@observer.com