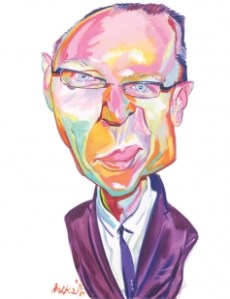 Upon arriving last night at the Waldorf Astoria for the Deadline Club's annual award ceremony, Wall Street Journal managing editor Robert Thomson swept through the wine reception in the lobby and into the dining room while the guests, mostly journalists, finished their drinks.
Mr. Thomson had missed the hour of standing around and drinking. He was there to deliver the evening's keynote address.
"Journalism is a contact sport," he told The Observer before anyone had come in for dinner.
We were talking about Mr. Thomson's battle with The New York Times.
Last week The Times threatened Mr. Thomson's paper with legal action for copyright infringement. New York Times Co. CEO Janet Robinson also accused The Journal of heavily discounting ad space.
"I'm not in the ad department, but the suggestion that we're giving ads away or somehow padding the paper—they know that's not true," Mr. Thomson said.
Ms. Robinson said last week that The Times has not lost any readers to The Journal since the launch of its Greater New York section.
"I'm sure that [Ms. Robinson] wouldn't have said anything that would in any way be interpreted as misleading given the stringent requirements of the S.E.C. disclosure regulations," Mr. Thomson said grinning.
Zing! Argy-bargy!
Mr. Thomson also took exception with the idea that The Journal would ever copy The Times.
"If you look at the paper, The New York Times, historically it was very vertical," he said.
He was talking about his rival's front-page layout.
"Go back and look at the last two weeks' front pages. You'll see they're increasingly becoming horizontal," Mr. Thomson said.
So The Times is copying The Journal?
"That's what you think, maybe that's what I think," he said. "We'll let people reach their own conclusions about that."
O.K.!
Mr. Thomson also had some good news to deliver.
"The most recent figures are that weekday sales, retail is up 13 percent and Saturday is up 18 percent, which are pretty good numbers in a retail market that's best described as challenging," he said.
"At The New York Times it's the hour of dour most of the day, so they're a little leaden-footed in the way they dance around the boxing ring," Mr. Thomson continued.
We wondered if Mr. Thomson was happy with Sarah Ellison's War at the Wall Street Journal, which came out in May to excellent reviews.
Ms. Ellison thanked Mr. Thomson for "his wit" in the acknowledgements.
"I've read bits and pieces," he said. "I think a book that has large chunks of reported, quoted speech—" he paused. "It's just not accurate."
"It's non-non-fiction," he said.